First of all, I want to start by saying that that trip was a new experience to me, since I've never been abroad before. But it doesn't mean I'm going to talk only about its good sides.
One of my goals before the trip was to find an apartment with a normal personal kitchen, because cooking at home is cheaper and easier. You can book apartments with the help of Ostrovok.ru. This service allows you to book an apartment and pay for it with a Russian bank card.
In order to cook for myself, I mainly shopped at supermarkets. I can recommend MAXI, since they have tofu, different kinds of hummus, soy butter for bread, tofu pate and many other things. An IDEA supermarket doesn't have such a wide range of goods, but you can find alternative milk, hummus and snacks there.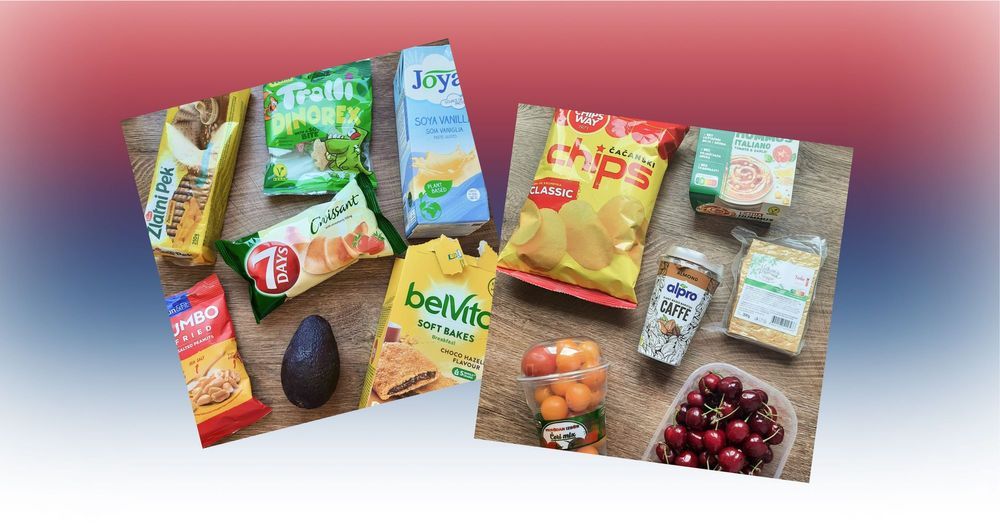 For example, for breakfast I had cornflakes with Alpro milk, fruits and berries, and I drank tea with hummus sandwiches. I also added fried tofu, avocado and cucumbers in my sandwiches. Also I cooked pasta with mushrooms and vegetables. As for snacks, I had BelVita chocolate biscuits, Trolli Dinorex gummies, salted peanuts, Vitalia RAW bars, Chips Way classic chips, berries and fruits.
In Belgrade, there are many places with plant-based food. And, as far as I can tell, the service is nice (in vegan places specifically), since I have also been in a regular cafe and didn't like it. It was very noisy there, because in Serbia they like to talk a lot and loudly.
If you don't like the smell of cigarettes, then I'm afraid to upset you.
In cafes and restaurants, there are ashtrays on every table both inside and outside. Consequently, people smoke right while eating, and the tables are placed pretty close to one another.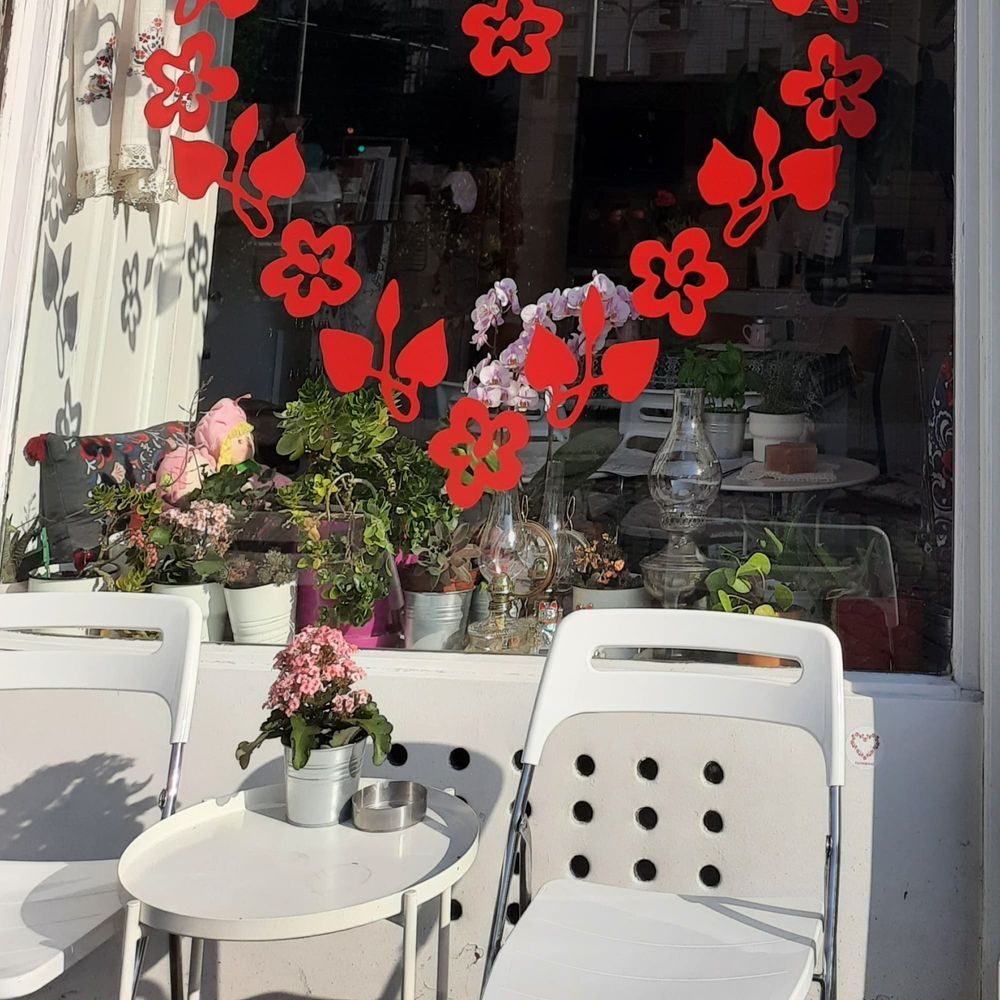 Places with plant-based food that I have visited are
VegANGELov and Zdravo Ljubavi. The staff was friendly and attentive. These restaurants serve mixed cuisine with a focus on healthy lifestyle (a lot of sugar free and gluten free positions). The VegANGELov's menu includes burgers, rolls, salads, snacks and drinks. I ordered the falafel salad with no Caesar dressing (since I didn't clarify its composition) and the lemonade. Zdravo Ljubavi is not so spacious inside, that's why you may be offered to sit in the garden.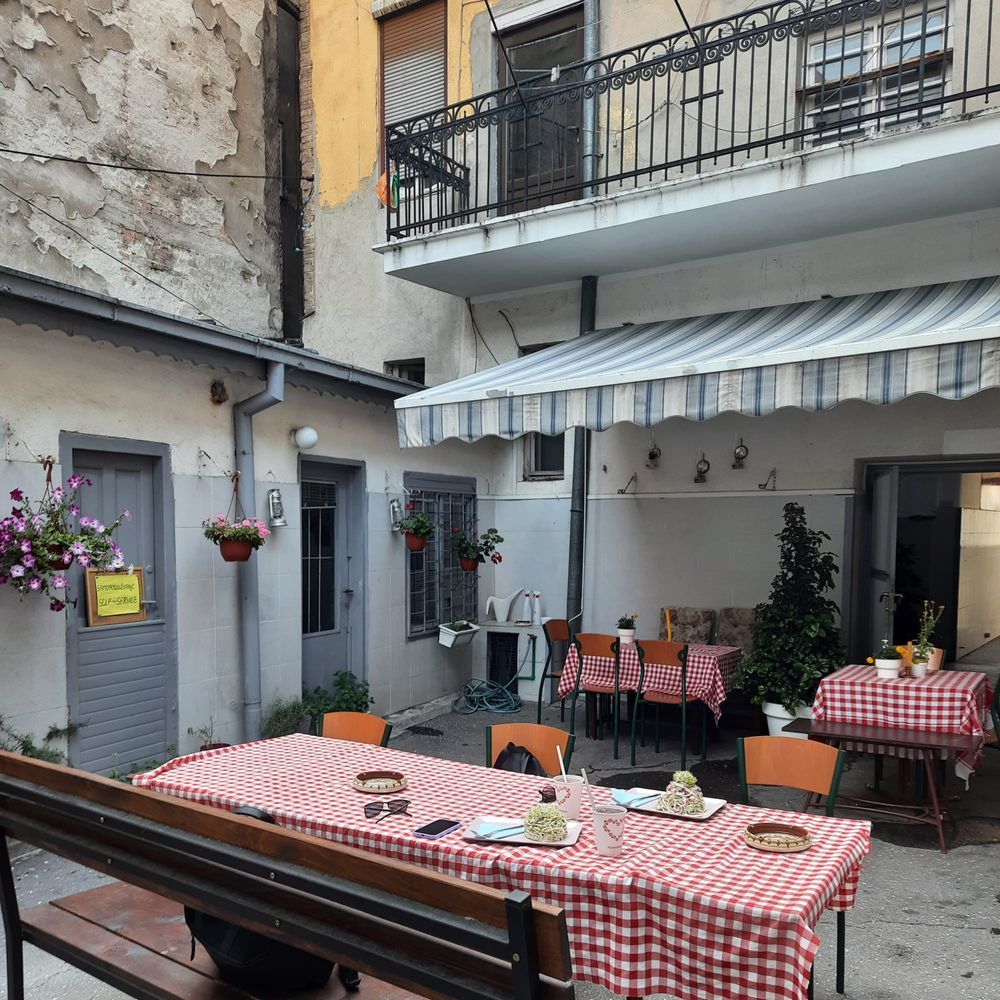 In fact, it's a courtyard of Serbian houses, where there was no one but us. It was unusual and even a bit romantic. At Zdravo Ljubavi, I tried the zucchini spaghetti with tomatoes, parsley and microgreens with a cashew and oil sauce. As a drink, I ordered a banana and berries smoothie. For dessert, I had some raw cake and candies. The desserts' compositions included nuts, dates, berries, psyllium (a plantain seeds husk powder).
Most likely, you won't understand Serbian, and Serbs won't understand Russian. That's why it's optimal to clarify the dishes' compositions in English. I had no problems with it. At the first restaurant, I asked the waiter about all the needed compositions, and he clarified it in the kitchen. At the second restaurant, it seemed that it was its owner who met us – that's how warmly we were welcomed. We were asked about our food preferences and were given menu recommendations. And when they found out I was from Russia, they became interested in whether it's difficult to be a vegan there and where I buy vegan food in my country.
Sightseeings
The Belgrade Fortress and Kalemegdan park
The main tourist destination in the city. The Belgrade Fortress and several museums of various subjects are situated right within the Kalemegdan park. You can find there the Gallery of the Natural History Museum, the Military History Museum, the Torture Museum. Also, there is a zoo in this park. I haven't seen it myself, but better be careful if you go there. Also, you can see the junction of the Sava and Danube rivers from there.
The National Museum of Serbia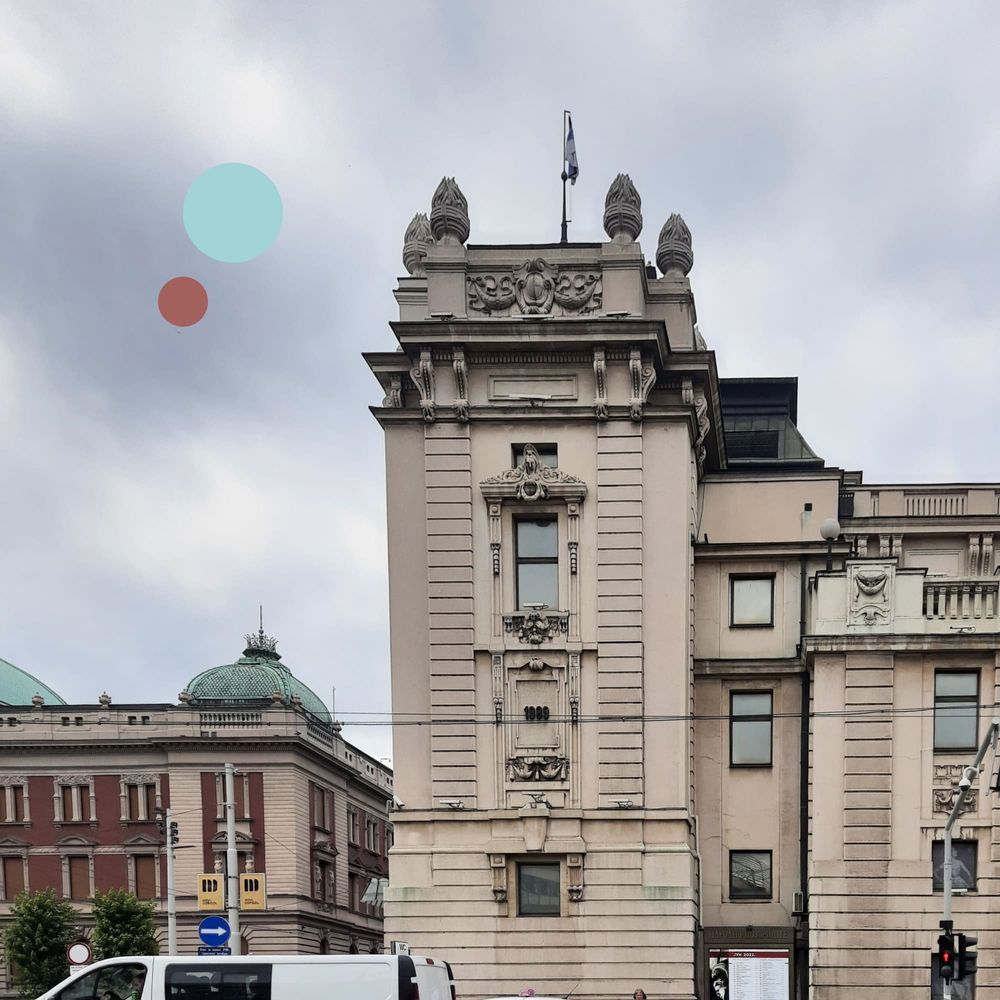 The title says it all. This is the main museum of Belgrade and Serbia. The museum owns various collections of paintings. Also, you can see there some numismatic collections, sculptures, icons and household items.
The New Cemetery
This place is Belgrade's cultural monument. The famous Serbian historical and cultural figures are buried there.
The Jevremovac Botanical Garden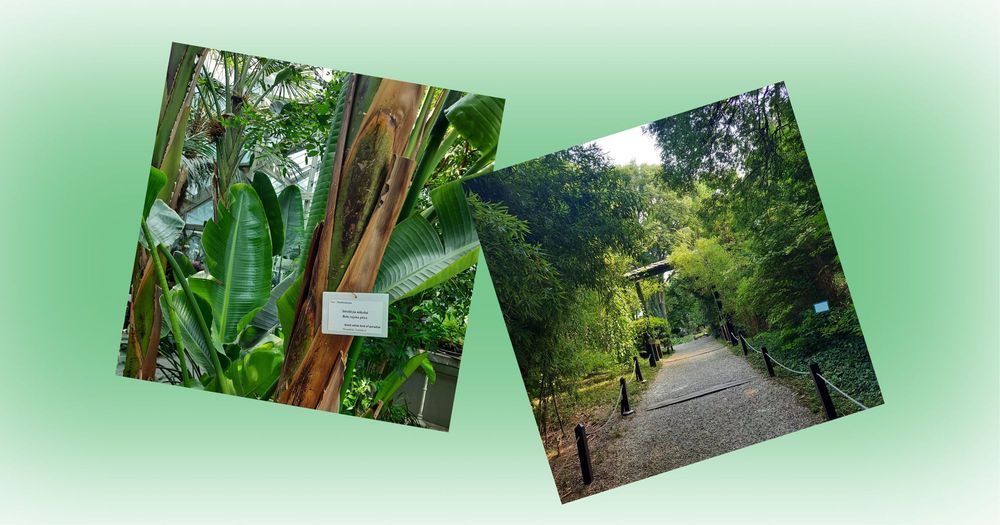 Various plants from all over the world grow in this garden. Also, you can find a small Japanese garden and a greenhouse with tropical plants there.
Skadarlija
This is the old quarter of Belgrade. On the initiative of Paris, this place officially received the name of Belgrade's Montmartre. This place, yet again, turned out to be very noisy. You can find some places with national cuisine there, but, unfortunately, I didn't manage to get there. They had a certain dress code I didn't fit into. So, if you want to visit these places, it's better to learn about allowed clothes in advance.
Zvezdara Forest Park
This is a small green park with the Astronomical Observatory of Belgrade situated on the city's outskirts. Getting there on foot takes a lot of time, and it's far away from the city, so it's better to go there by car. This park can be called a "wild' one, because it's not actually equipped with anything, and it's not a typical tourist place. It must be nice to go there on a picnic with your family. But it wasn't our purpose, so we had nothing to do there. Also, the observatory was closed during our visit.
Skadarlija and Zvezdara Forest Park did not worth our time at all.
Belgrade caught me with its bright sun, street graffiti culture, kind people and low prices for berries and drinks. What I didn't like were loud talks all over the place, smoking at every turn, dog feces scattered on the city streets… But it didn't spoil my overall impression, and that's why I would definitely come back there again!
Translated by: Daria Grishanova
Design and layout by Liuba & Arina