Our author Nastya tells the story of how one day she had to leave her home country for fear for her life and her mental health.
---
Instead of two plane rides (from Saint Petersburg to the South of Russia and from there to Yerevan) my boyfriend and I decided to take the train to Volgograd and then fly to Yerevan. If our two cats were able to nod, they would approve, I'm sure.

The most difficult part turned out to be waiting for the train ride (a whole month). Our cats took it the best: they were in quarantine after getting their shots while we were waking up and going to sleep hoping we make it in time and the flights do not get canceled. Now I'm writing this text in a Yerevan flat's living room and thinking that my worries were quite strange. For a whole month now I have been living in a warm, welcoming country and I do not experience that awful fear for my well-being anymore. Instead, however, I constantly think about how my loved ones are doing back there. These are the ambivalent feelings of emigrants.

But let's get back to the story of our journey. The train ride from Saint Petersburg to Volgograd took 36 hours. We got lucky: there was only one man in the compartment with us. He loved kitties with all his heart and allowed our whiskered pets to sit wherever they wanted (even on his bed).

The only requirement for pets traveling by train is a carrier. In 2 days the cats got so used to the train compartment, their new living space, that they slept calmly at our feet, just like at home. We fed them according to schedule, as we would normally, and also gave them water. But, because of the stress, the cats did dirty the pee pads once. And that was before they knew that they would have to meet two not-so-friendly creatures of their kind and spend three days learning how to defend their owners from them. This turned out to be more of a stress than a journey but even this difficult period passed. We successfully boarded the plane and left Russia.
Requirements for pets on planes turned out to be much stricter: international passports, a carrier of a certain size and with a waterproof floor, and a harness on each cat. Our luggage consisted of clothing and shoes meant for hot summers and two laptops: we decided that everything else could be simply bought there.
"There" turned out to be even better than we had been told. We spent the first two weeks living in a pleasant guest house in the private sector. The best part was that the house was located on a hill so the city along with a multitude of mountain ranges was visible right from the second-floor window.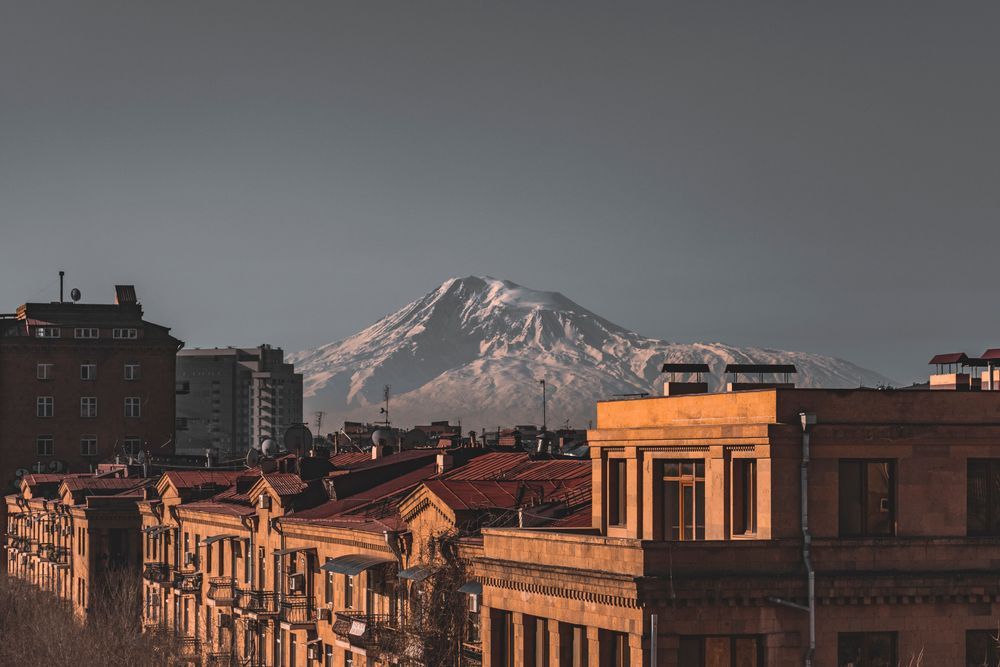 We spent the first week in some sort of daze, barely moving. Turns out that is how acclimatization feels. Then, we woke up and started searching for a permanent flat (which was found quite quickly, by the way). We used Telegram chats and an Armenian house-renting service - list.am. We liked the area the guest house was located in so we decided to look for a place nearby. Here, however, we were faced with some difficulties: we haven't learned the language yet, wanted to find a fairly inexpensive flat, and, on top of that, had two pets (here, it's almost impossible to find a flat with pets). We had to use a broker (a real estate agent). By the way, for as long as we were looking for an apartment I have not seen even one broker who took 100% in commission fees: they usually take 30-50%, which is nothing but a pleasant surprise. We ended up renting a flat that is not located in the city center but there are small pleasant minibusses that take you there for a mere 18 rubles and in 18 minutes.
I, also, fell in love with residential areas. In Saint Petersburg, I wanted to live and lived exclusively in the center. But here everything is nearby, and there is no need to constantly go to the city center.
It's a good thing that my boyfriend is a programmer and he was able to find a job in a new country quite easily. Thanks to this he got the opportunity to apply for a residence permit which will allow him to stay in the country much longer than the notorious 180 days. Now we have realized that we would have to get married for my residence permit, but that is a completely different story.
Living in Yerevan is great: warm weather, cheap vegetables, and fruits, generally kind people, most of them able to speak Russian, as well. There could be only two problems here: lack of a remote job and no knowledge of the language. They are solvable, though, and then living here becomes mega comfortable.
Difficulties with vegan food are a different problem, though. It's almost impossible to find even TVP or tofu. Thankfully, Wildberries (an Amazon counterpart) delivers here too, so I ordered 2 kg of soy TVP. Now I'm waiting to try it.
There are two vegan cafes in the center of the Armenian capital but their menu unfortunately consists almost entirely of sandwiches.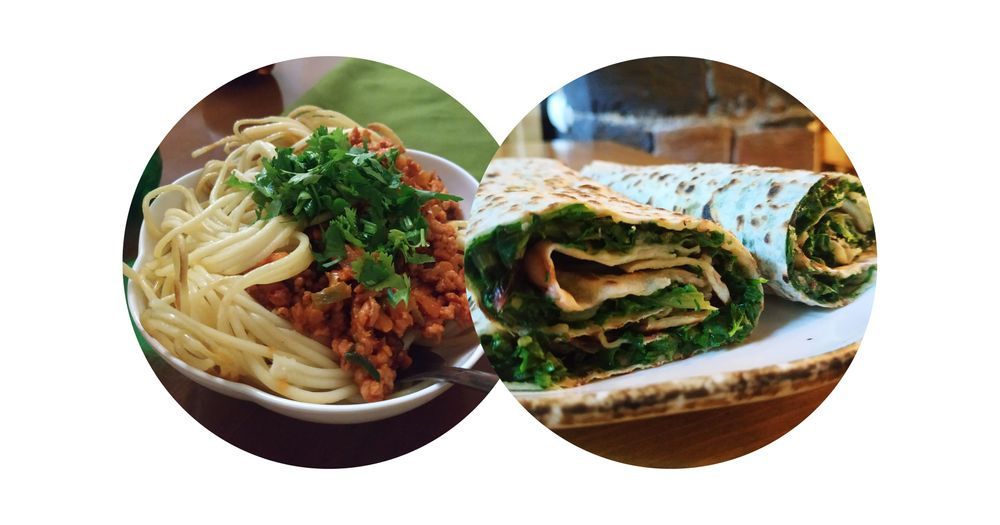 Back in Russia, I followed an Armenian vegan blogger who claimed that there are vegan options in almost every standard cafe. I have not checked that myself yet since I have not found a job. Thankfully Armenian cuisine consists primarily of vegetable dishes and they are extraordinarily delicious.
Grocery shopping is easy, too: we just study the ingredient labels. They are written either in Russian (in many cases) or in English. If neither of the languages is present, you can just download an image translator app onto your smartphone and there you have it, read away. Many sweets are vegan but all kinds of margarine contain butter. Therefore, you'll have to make do without the delicious Finnish spread from "Prisma".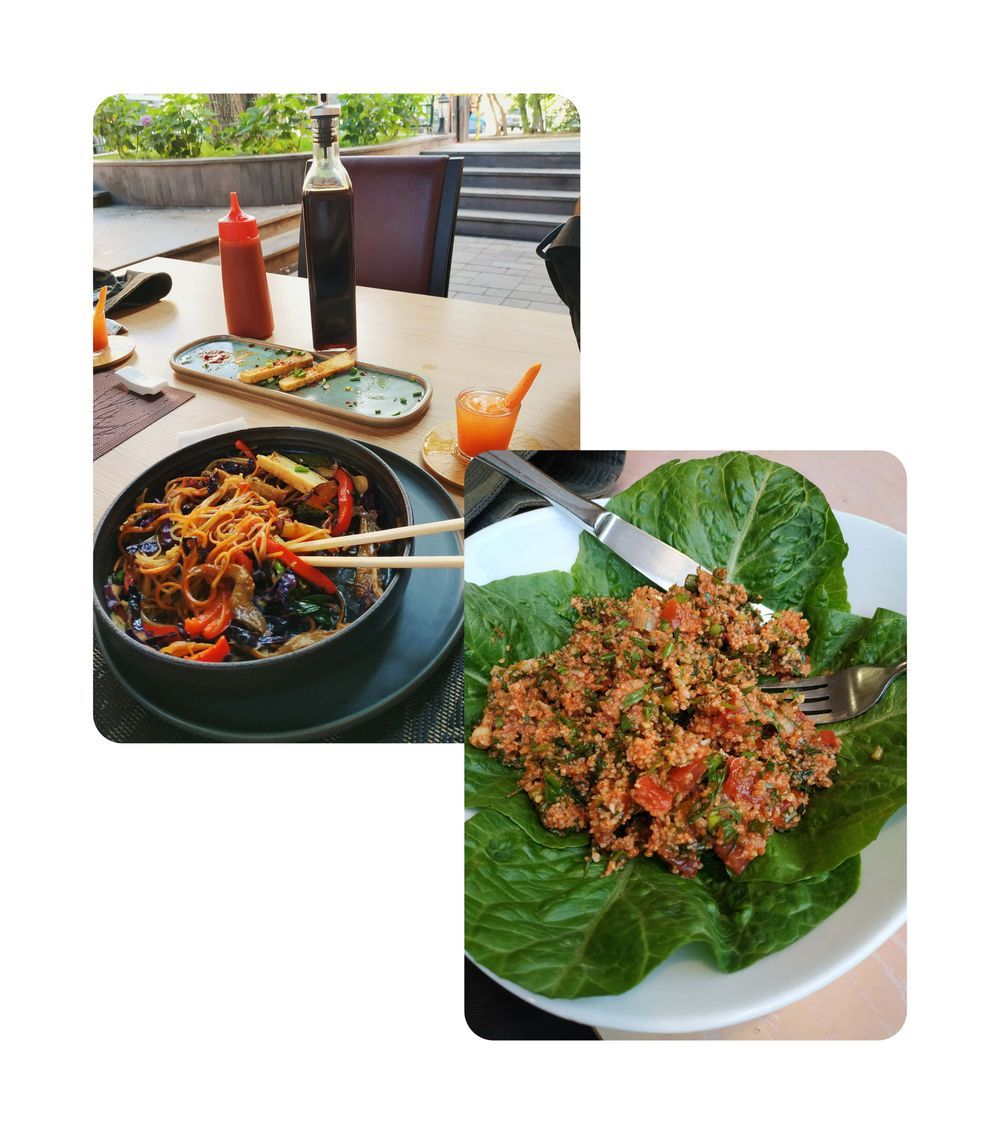 My life became slower in Yerevan. I even started to like cooking. However, it's impossible to do without a powerful blender (which we have already found). There are not many goodies in the shops like there were in Saint-Petersburg so we have to find recipes and cook. Before, we did not do that ourselves often. And why would we if we could have just gone to the shop and bought something ready-made?! The one good thing is the variety of plant milk. However, I see the good even in the limited choice of vegan products: finally, we can cook ourselves. It always ends up being much more pleasant and tastier. I am very happy that we moved (we have been planning to do so for a while). It's just a huge shame that it took such a "push" to finally get us here.
---
Translated by: Sofya Pervukhina
Design and layout by Liuba & Arina