Shalom! Today I'll be your guide and reveal my own top venues where you can have a delicious and ethical meal. We are in the country where modern technologies and old traditions are combined, the country where hummus and falafel are invented (as far as we can trust Israelis).
Since we have been talking about the snacks let's start with cafes where you can try these national dishes.
Badra (בדרה - חומוס, פול, מסבחה), Rehovot
A small place in the center of Rehovot (25 km far from Tel Aviv where you can try both hummus and falafel.
It's a cozy café with low prices, big portions, and amazing falafel.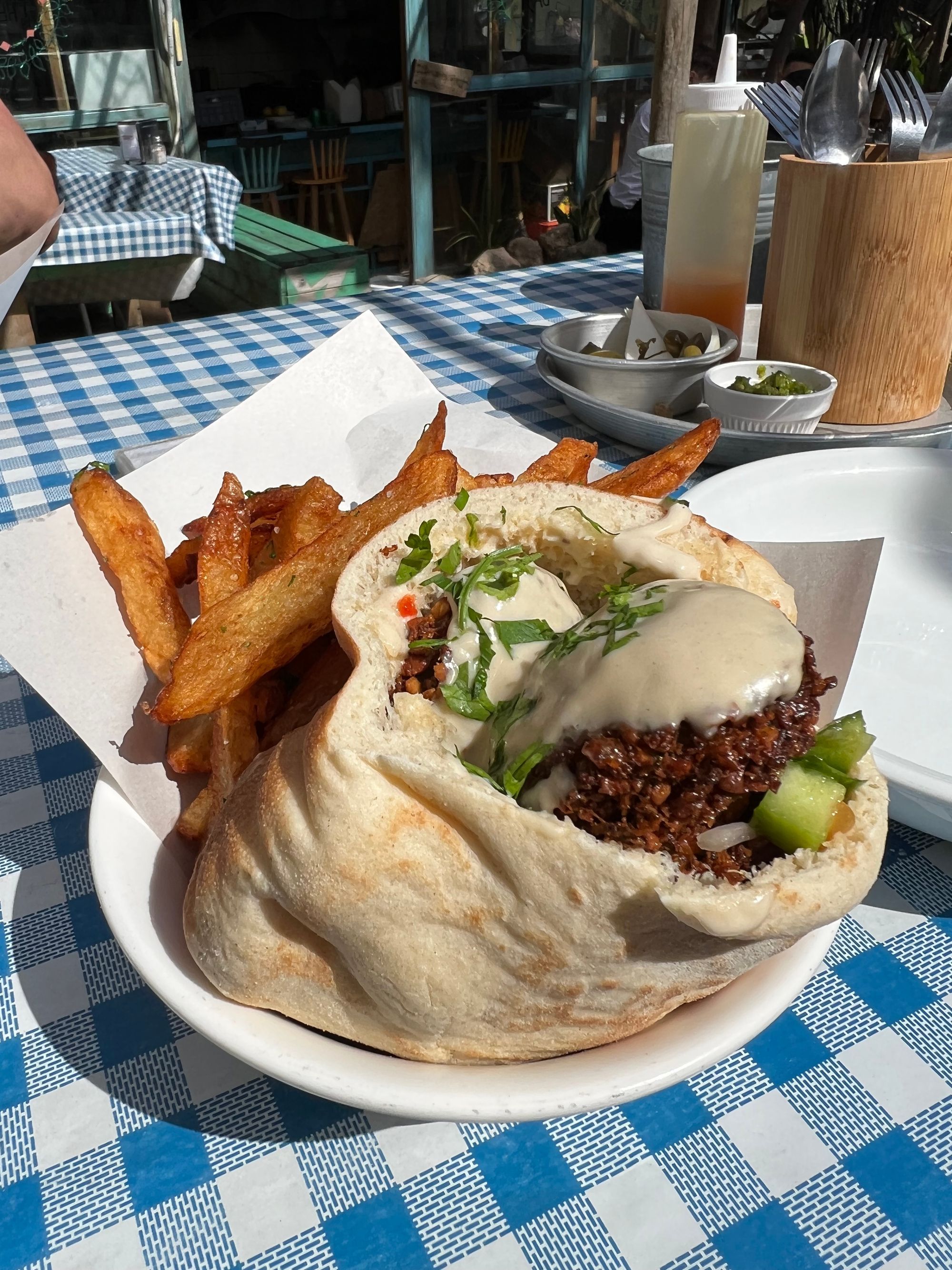 Though they have a limited number of menu items there are numerous variations of hummus. The staff is very friendly and the food is so much like a homemade one – in the best sense of meaning.
Ha'kosem, Tel Aviv
A place specializing in making falafel and different kinds of shawarma (non-Vegan). But hummus is also on the menu. Falafel is cooked according to a classic Israeli recipe. The place located in the city center is authentic. The prices are high enough, but it's the best falafel that I ever tried so far.
I ordered the falafel with fried eggplant. It's so simple and at the same time so unusual mix. Highly recommend.
Tasty hummus can be found in almost any Israeli store
(more over it can be huge cans of half a kilo of hummus for ~ 3 euros (10 shekels) with a variety of spices and additives). Hummus is not just food here, it's an essential part of Israel's culture, therefore, a huge stand is usually allocated for hummus, where you can find about 20 types of this national dish.
There are small venues with falafel in every town as well
Those are worth your attention, especially if the comfort of the restaurant level is not so important for you or you want to have a picnic by the sea, taking with you delicious and ethical food.
Tova's Falafel in Natanya is one of these places. Here you can find a super-creamy falafel for a low price and more over you can add various ingredients, for example, the same fried eggplant.
---
Fortunately despite the significant number of venues specializing in making hummus or falafel, the list of vegan dishes in Israel doesn't end on them, otherwise (may the locals forgive me) we would get bored soon.
I want to tell you about my favorite vegan place in Tel Aviv where you can taste dishes from different cuisines all over the world. Goodness, it's an absolutely vegan venue. You can try here such fancy dishes like shakshuka (another traditional Israeli dish – eggs fried with tomatoes and other vegetables served in a cast-iron pan) which is made here with a special egg replacement, a burger with "scrambled eggs", various shawarma with super tasty fillings (I really recommend them), buckwheat flour pancakes with vegan cream and many, many, many other treats at an average price.
The place is very cozy and ideal for long meetings. The location is close to the city center. The menu really pleased me because you could hardly ever meet such a variety of dishes in Israel.
Another place that really impressed me is Four One Six in Tel Aviv which is a true heaven for such a sweet tooth like me.
Except for a huge assortment of dishes of southern Mediterranean cuisine, you can also find amazing desserts here: cheesecakes, brownies, and ice cream.
In fact, there are lots of vegan cafes in Israel, the main thing to remember is to look for and check out properly the ingredients of the dish.
This time we virtually visited the best hummus and falafel restaurants in Israel and my favorite places – places of vegan power – in Tel Aviv.
However, I haven't told you about so many other cafes and restaurants in other cities, so the topic will still be relevant, so –
see you soon!
---
Travel Like a Vegan recommends always double-checking the ingredients of the ordered dishes.
Translated by J.M.