I have been living in Finland for over two years, but only recently have I discovered the local library system. I am very impressed by the way everything is organized, from borrowing books to the library spaces (including the famous Oodi). In this post I describe my experience using the libraries of the Capital Region.
---
Helmet
To borrow books, you need to come to a library branch with your ID and fill out a form. The form is available in English and Finnish. The staff speak English too. To get a library card, you would need a Finnish ID number. It is assigned to every citizen and permanent resident and looks like this:
010397-547K.
Right away you get an orange Helmet card. "Helmet" means "beads" or "pearls" in Finnish. I don't quite understand the exact meaning behind the name. You can use the card to borrow books and access online services. For the latter, you need to come up with a PIN. I recommend you write it down somewhere.
Things that I particularly like about Helmet:
you can borrow and return books without having to talk to anyone;
you can order books from any branch in the Capital Region to your local library branch;
you can return books at any branch, regardless of where you borrowed them;
you can access an online catalog and use it to borrow e-books for up to two weeks.
Helmet Libraries
There may be a lot of differences between individual library branches, but every single one of them was designed to serve as a public space.
For example, my local library is quite noisy, because teens gather there to play video and board games.
The library near the train station is dimly lit and perfectly quiet. The visitors walk on eggshells so as not to disturb the sacred silence. This branch reminds me of a typical library in Russia. However, there are some differences, such as the library catalog and self-service electronic borrowing stations.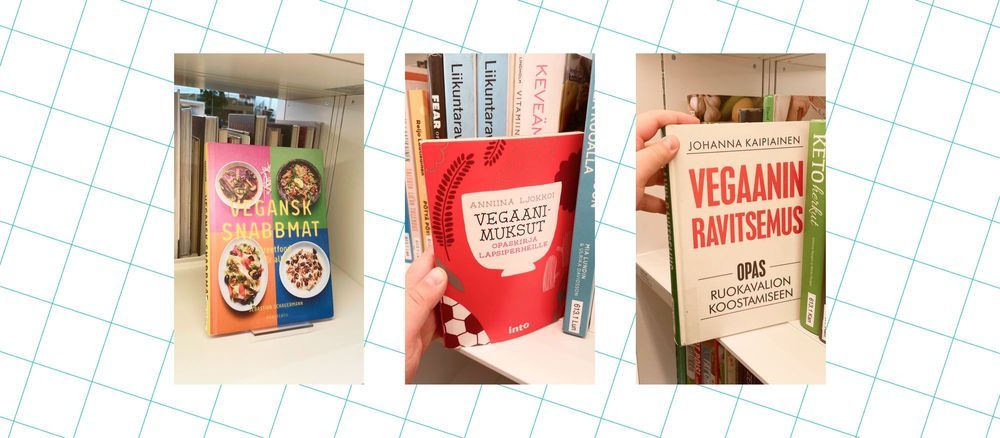 In addition to all that, libraries let you use a public printer. To use it, you need to send your file to a designated email address and receive a code, which you then enter on the printer. This service is not available everywhere, so ask the staff beforehand. Personally, having used it, I found the process to be simple enough.
The Arabia branch looks more like a stylish hip loft with its exposed brick walls.
Of course, we have to talk about The Oodi, the most famous library in Finland. It has been built quite recently over old railroad warehouses (there is a train station nearby). Many design bureaus bid on the project, but it was eventually awarded to a Finnish company. Local residents were invited to submit their suggestions during planning, and more than 500 were filed.
Oodi is one of my favorite spots in Helsinki, and I try to visit any time I get a chance. I once even spent half a day there, hiding from the hot weather in its air conditioned halls.
In fact, spending your whole work day there is entirely possible. On the third floor, you will find ample seating, power outlets, restrooms and cafes. We had to use our own Wi-Fi, but the computers on the second floor have Internet connection.
Speaking of food, there is a Fazer Cafe on the ground floor. They often have vegan items, and you can check details and ingredients here. On the third floor, there is a cafe offering plant-based milk for drinks, vegan desserts, sandwiches, snacks and Alpro products. I have only been to the cafe on the third floor, and I really enjoyed their vegan desserts. However, they do change their offerings regularly, so vegan options may be limited on certain days.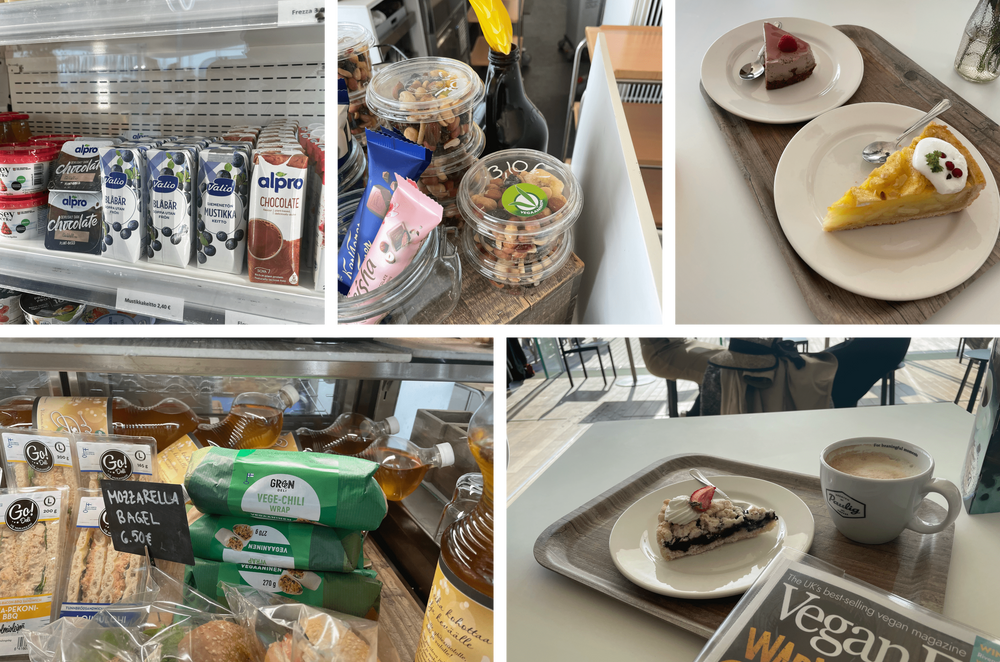 As for the library, the third floor has a large selection of books about vegan lifestyle and cookbooks. However, you need to know what to look for, because most are in Finnish. Issues of UK based Vegan Food magazine are also available in digital and print formats. There are many other books, such as books in Russian and LGBTQ+ literature. You can also borrow video and board games.
There is also a kids' area and an open air terrace on the third floor, which gets very crowded on warm sunny days.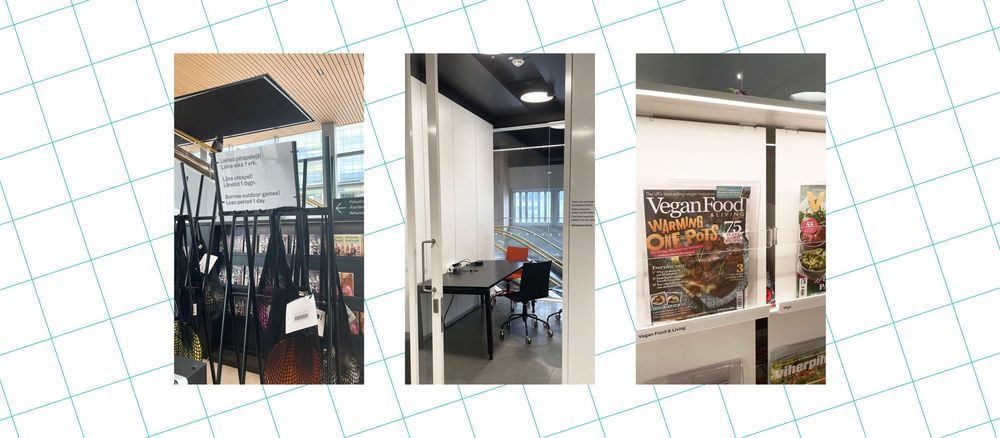 The second floor has no books. Instead, you will find conference rooms, 3D printers, sewing machines, computers, game consoles, meeting rooms (we used one of them to play a board game we just bought), sound recording rooms and so on.
There is a cafe on the ground floor, information desks, book return facilities, displays with bestselling titles, chess and checker boards and spaces for outdoor games. You can find more details about the available services at https://www.oodihelsinki.fi/en/.
Moreover, Oodi, as well as other library branches, rents out garbage collection equipment. My husband and I volunteered for a coast cleanup organized by the Satakolkut initiative. First, we headed to the library to borrow telescopic garbage pickers and bags, and then headed to the cleanup. You can use your library card to borrow these items just like you do the books!
Overall, I had a great time using the libraries of the Finnish Capital Region. Their awesome facilities encourage me to come back often and read more!
---
Translated by: Maria Aleksandrova
Design and layout by Liuba & Arina