As we were feeling very positive after our trip to Rovaniemi, we decided to explore another city in Finland. We chose Turku because we had never been there before – we had only traveled through it on our way to Sweden.
Turku is the former capital of Finland. As a result of the Russian-Finnish war followed by the peace treaty, in 1809 Finland became a part of Russia. The capital was moved from Turku to Helsinki in an attempt to minimize the influence of Sweden. By the way, the Swedish name of the city is Åbo (pronounced "OH-boo").
How we got to Turku
If you haven't read any of my other posts yet, you probably don't know that I live in Vantaa, Finland. It's important to mention because it is quite easy for me to get to any Finnish city from here. So this time to get to Turku my husband and I simply made it to Kamppi station and took an Onnibus bus (we bought tickets in advance) from there. By the way, we saw an Alpro ad as we were leaving the city, which instantly made us remember our trip to Jyväskylä when we were accompanied by the ubiquitous Oatly ads.
The bus trip took us about two hours.
Expenses
122.2 € - Airbnb house,
32.6 € - two return bus tickets from Helsinki to Turku,
83 € - eating out (37 € at Pippurimylly, and 25 € twice at VG Wok),
44,69 € - food (picnic, breakfast, snacks, beer),
14 € - public transport,
42 € - taxi to the forest lake and back,
25.9 € - shopping at the secondhand store,
8 € - door plate.
Accommodation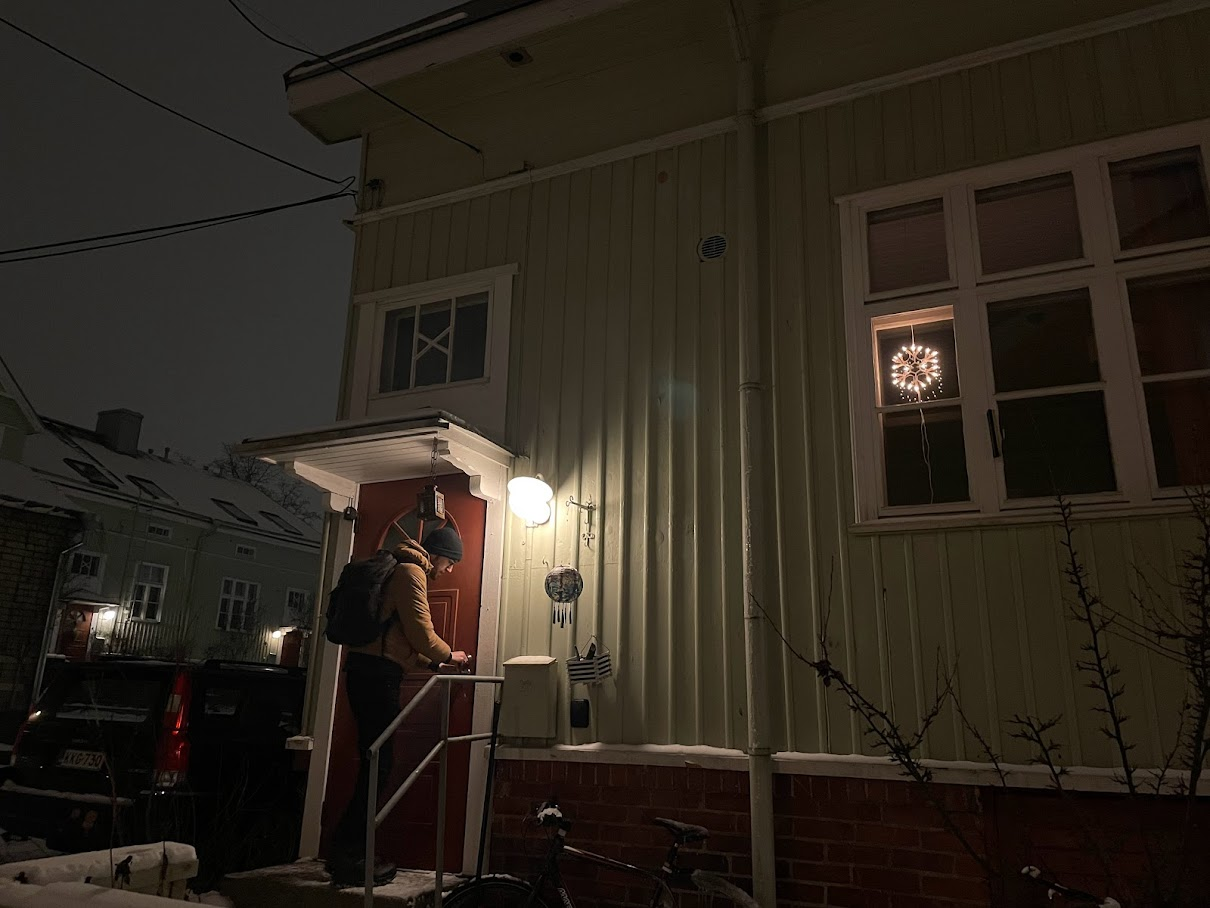 We usually stay at hotels. But when we were planning the trip to Rovaniemi, we went for an apartment because it was much cheaper (we booked it for the NYE and the first days of the new year). In the end, we enjoyed staying at a typical Finnish home a lot because we do not have Finnish friends whom we could visit, so we do not get to see Finnish apartments from the inside very often.  
This time we decided to enjoy the Finnish home vibes again. My husband Danya managed to book the most amazing house in Finland for us! It is actually a small block of flats, but it is so nice and inside it felt like a house, not a flat. Our Airbnb home even has its own Instagram account, and it is just wonderful! Follow this link if you would like to book this cozy place for your trip.
What we liked most about the place:
A lot of decorations making the interior as cozy as one can possibly imagine;
Warm interior palette;
A lot of vintage pieces;
The coolest combination of old and new things;
A sauna;
A soft comfortable bed;
A Marshall radio you can connect to your phone and listen to music;
The lights that you can turn on in the evening;
A mini-safe at the entrance where you can pick up the keys and get in on your own when you arrive;
Cleaning is not included but all you have to do is clean up after yourselves as best you can, which we always do anyway;
A music box on the entrance door playing a nice melody.
Communication with the locals
This was almost non-existent because we are not very outgoing when it comes to socializing and neither are the Finns! I noticed that the locals spoke a bit less English compared with people in Helsinki. However, this might be just my personal experience because according to Nomad List, people speak English as well as people in Turku. By the way, you can use the service not only to compare language skills. There are also indicators for crime, racism, queer community support, happiness, nightlife, etc.
Transport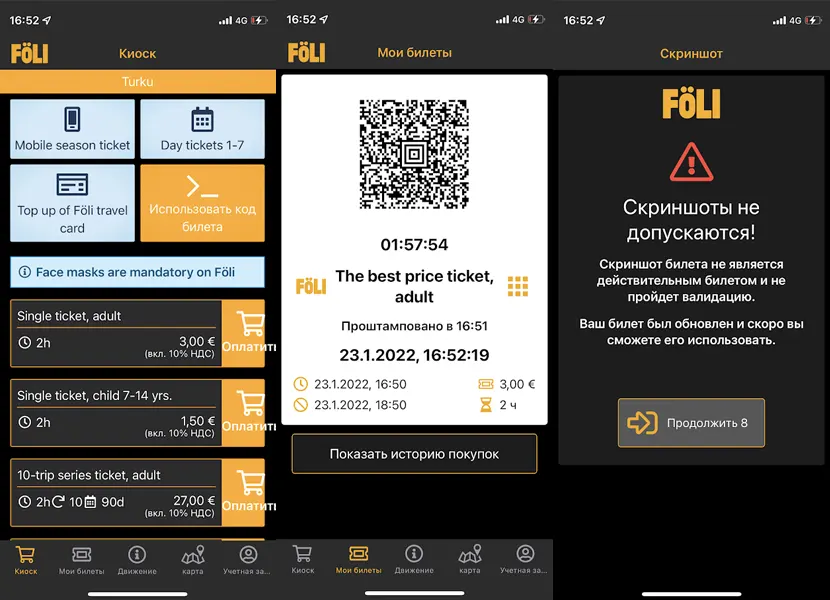 Install the Föli app to travel around the city. You can use it to buy an online ticket. You will then have to scan the QR-code at the entrance, next to the driver. For some reason the scanner is quite slow, so just hold your phone and wait patiently – don't move it.
In the app, you can buy "best price" tickets. They are better than single tickets if you move around a lot. The thing about "best price" is that the cost of tickets you buy is revalued based on the price of one-day or two-day tickets. For instance, a single ticket costs €3, and one-day ticket costs €8. You buy one single ticket for €3, the second one for €3, and the third one will cost €2 and automatically upgrade to a one-day ticket. Thus, you won't have to think in advance and buy tickets for a number of days – you can simply go for the "best price" option every time.
Besides buses there are other unusual types of public transport in Turku, so I suggest we move on to the "Entertainment" section where I will tell you more about them.
Entertainment
And now is the time for me to tell you a bit about the hidden meaning of this post's title. Turku is known as a Christmas city – in December it is heavily decorated, it is the home of the main Christmas tree of Finland and a lot of holiday activities are held here. However, we missed the Christmas mood, as it was already January 23, which is "a little too late".
Turku is also famous for the cycling routes you can enjoy in the summer… You can also rent a motorboat and go down the Aura river, but… also only in the summer. And this is what I call "a little too early".
There was another mistake we made on this trip – we came for Sunday and Monday. We had already travelled to different cities in Finland over the weekend and thought Sundays were always boring because all the interesting places were closed. But it turns out they are also closed on Mondays! So we had two boring days in a row on this trip.
And here is a piece of advice on what to do in Turku in the "lowest" season on days when everything is closed.
Föri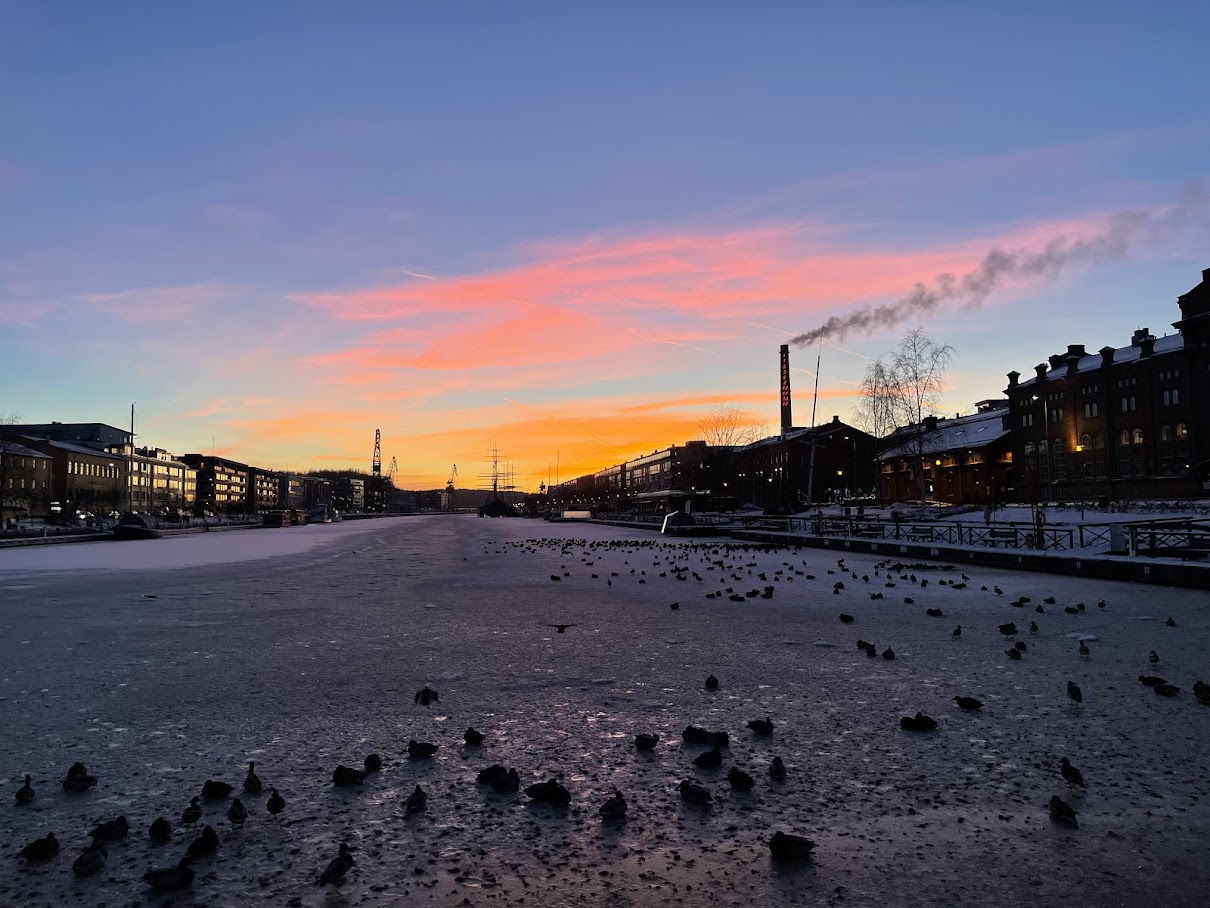 It is the name of a small ferry that travels between the Aura river banks every day. The schedule in summer and winter is a bit different and you can check it on the city website. In winter the ferry works only when the ice is thinner than 30 cm, otherwise, Föri is replaced by an ice bridge.
Why the ferry? Isn't it easier to put another bridge across the river? It is not that simple. Föri has already become the symbol of the city and a tourist attraction for people like Danya and myself. Besides, it is the oldest vehicle in everyday professional use in Finland put into operation in 1904!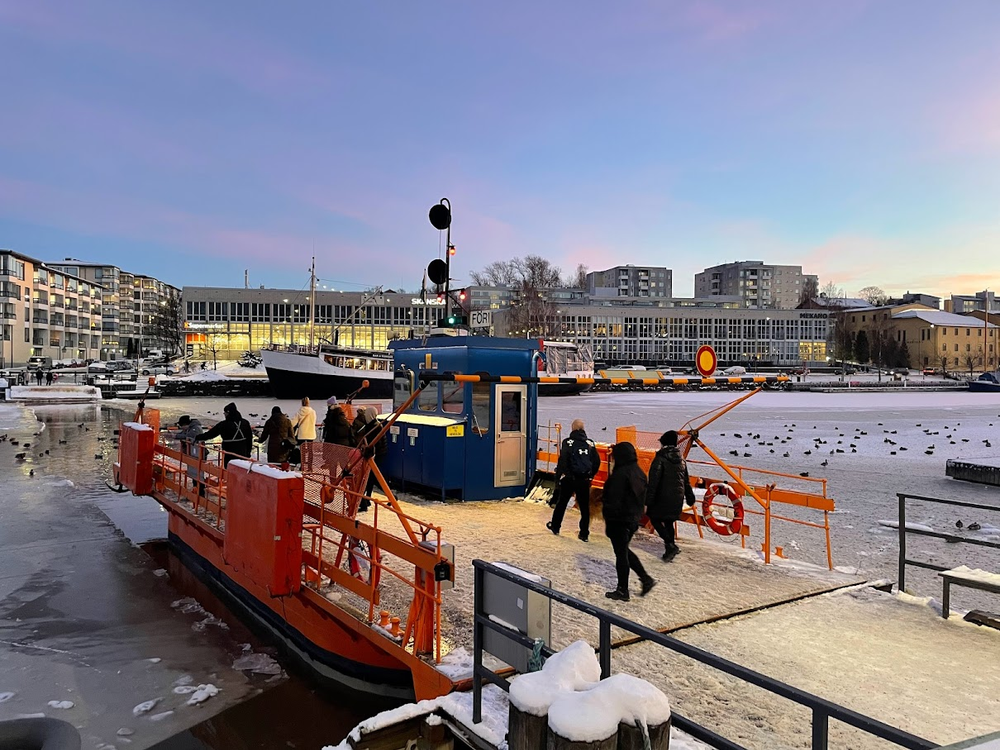 This attraction is free of charge and the trip by ferry takes only two minutes. We were lucky to get on the ferry at sunset and enjoy the amazing view.
By the way, there are a lot of ducks around the ferry because its route is one of the very few spots without ice on the river. Because of this, be ready to smell duck poo as you go. The ducks poop right there on the ice.
Funikulaari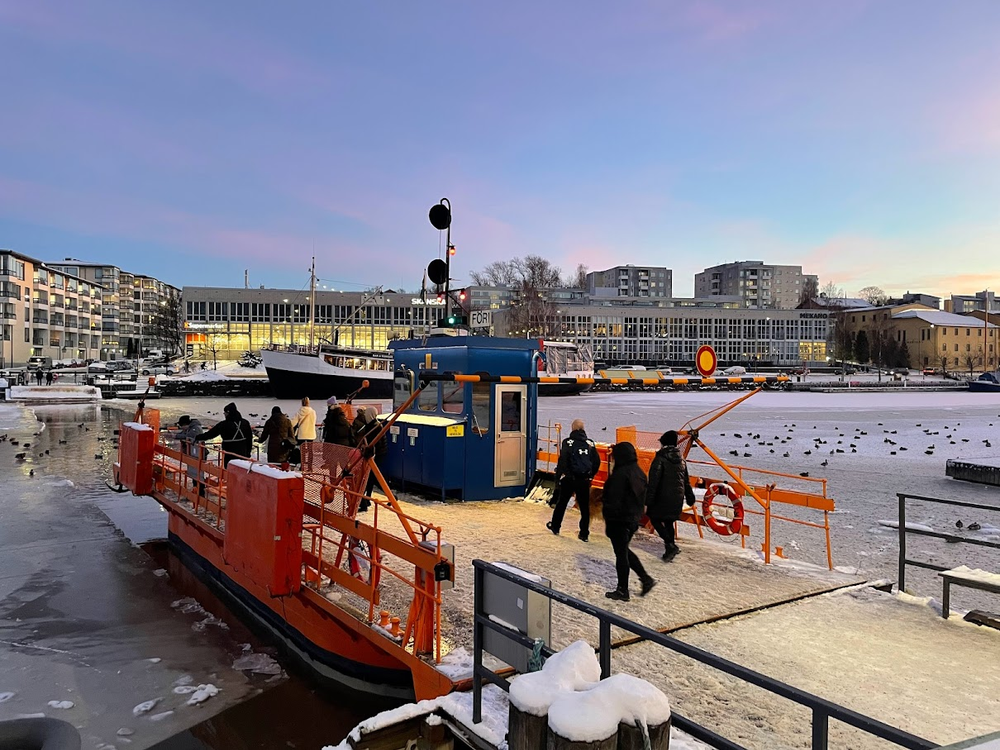 Right next to the ferry there is a small funicular that reminded us of the lifts in Helsinki underground. It is used to reach the top of a high hill and it works almost 24/7. At times it stops for technical reasons and then you have to go uphill on foot.
The first thing we saw when we reached the top was some hipster space called Kakola, which sounds funny in Russian. When we stopped laughing, we went for a walk through the city towards the castle. By the way, it used to be a prison and there is a small museum inside.
Abo Castle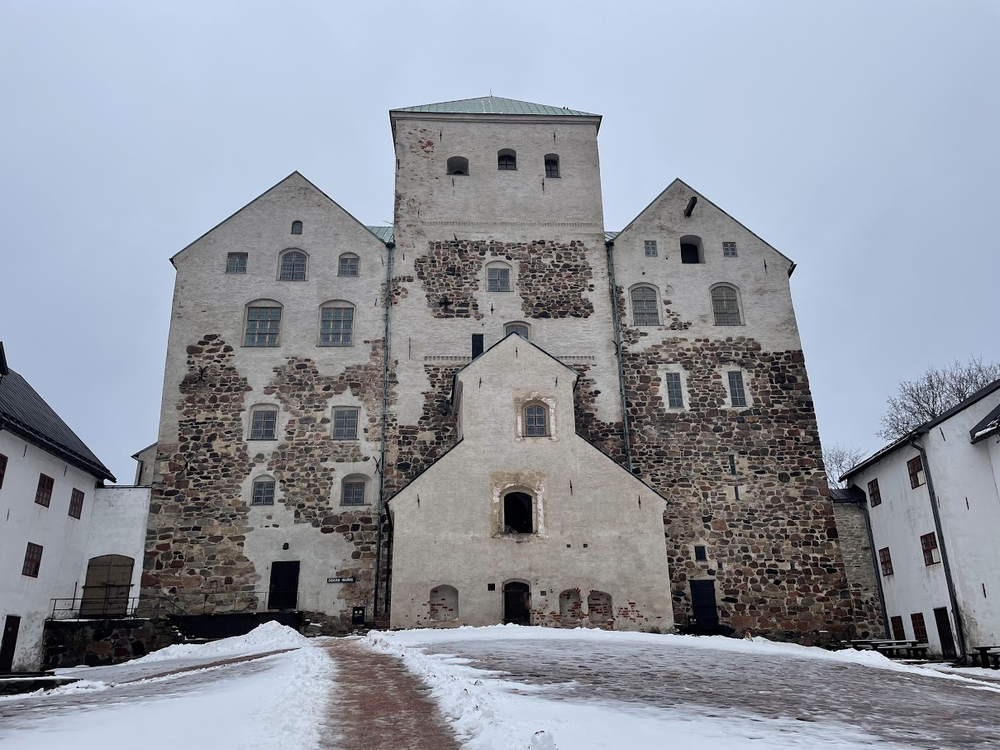 Unfortunately, the Great Fire of 1827 destroyed almost every house in Turku. The city was completely rebuilt, and there are very few truly old buildings here. Fortunately, the medieval castle remained intact and you can even visit it (but not on a Monday, of course).
When I looked it up, it seemed quite unattractive, but it turns out it was a classic "don't judge a book by its cover" situation. I think this is because most online photos are taken from the outside, and all its beauty is in the courtyard (the second one – further from the entrance).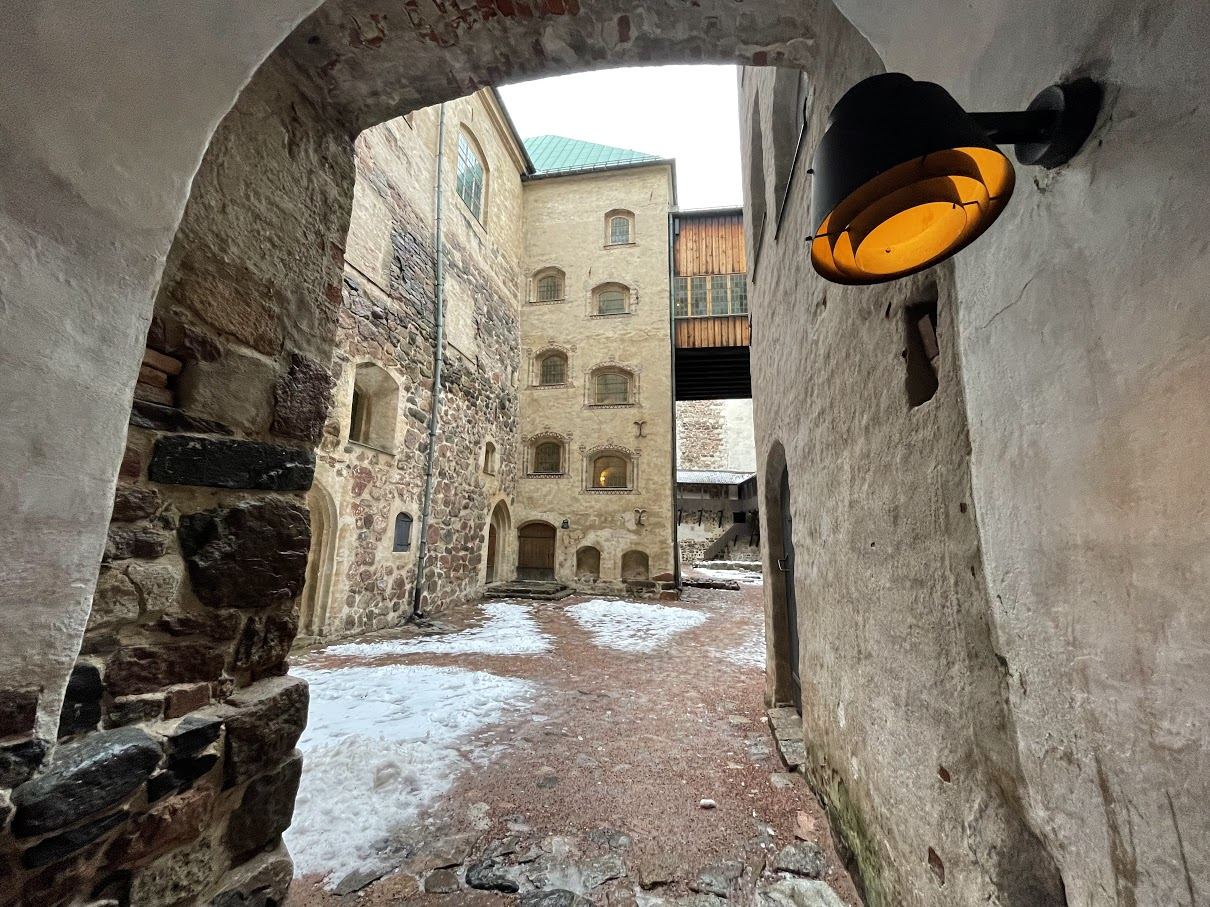 The courtyard was the one thing we could enjoy, but we hope to see the rest of the castle next time.
Posankka
"What is the strange creature on the cover photo?" you may be asking. This is the famous Posankka - a hybrid between a marzipan pig ("possu") and a rubber duck ("ankka").
A Finnish architect created Posankka in 1999, and when it made its first public appearance, it swam on the Aura on May 1. After that, the statue was put in front of the Caribia hotel and became its symbol. And since 2019 Posankka has been the symbol of the whole city of Turku.
Posankka is so charming we could not resist visiting it!
Sausage barbecue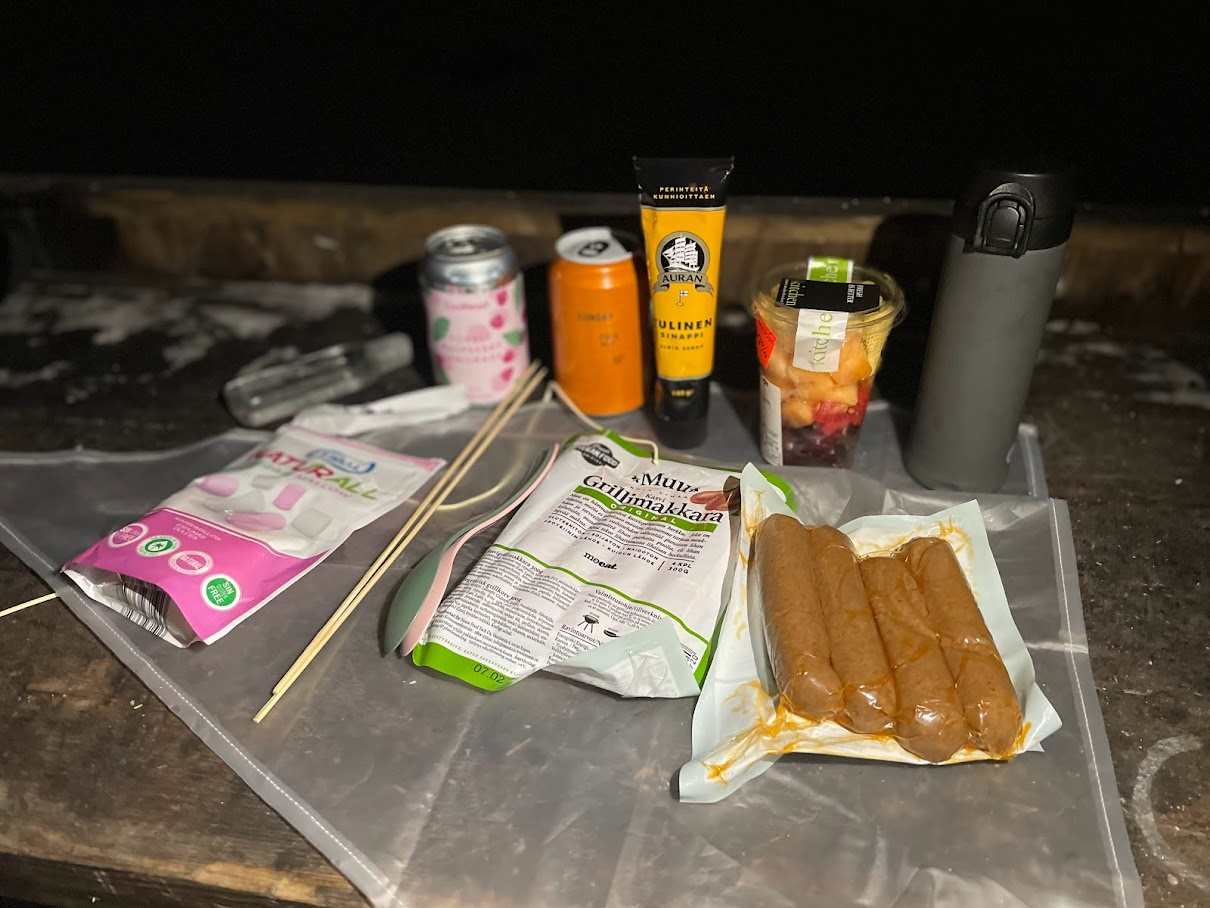 On Sunday evening we decided to grill some sausages outside and went to the lake… The sky was stunningly clear and we saw so many stars! We used the Star Map app to figure out exactly what stars and constellations we were looking at.
We found the barbecue site on a specialized website I mentioned in my post about Rovaniemi. The place had firewood both from the municipality and from previous visitors. Anyway, the firewood on the site was a bit wet, so we mostly used our own firewood we'd bought at the K-Rauta hardware store.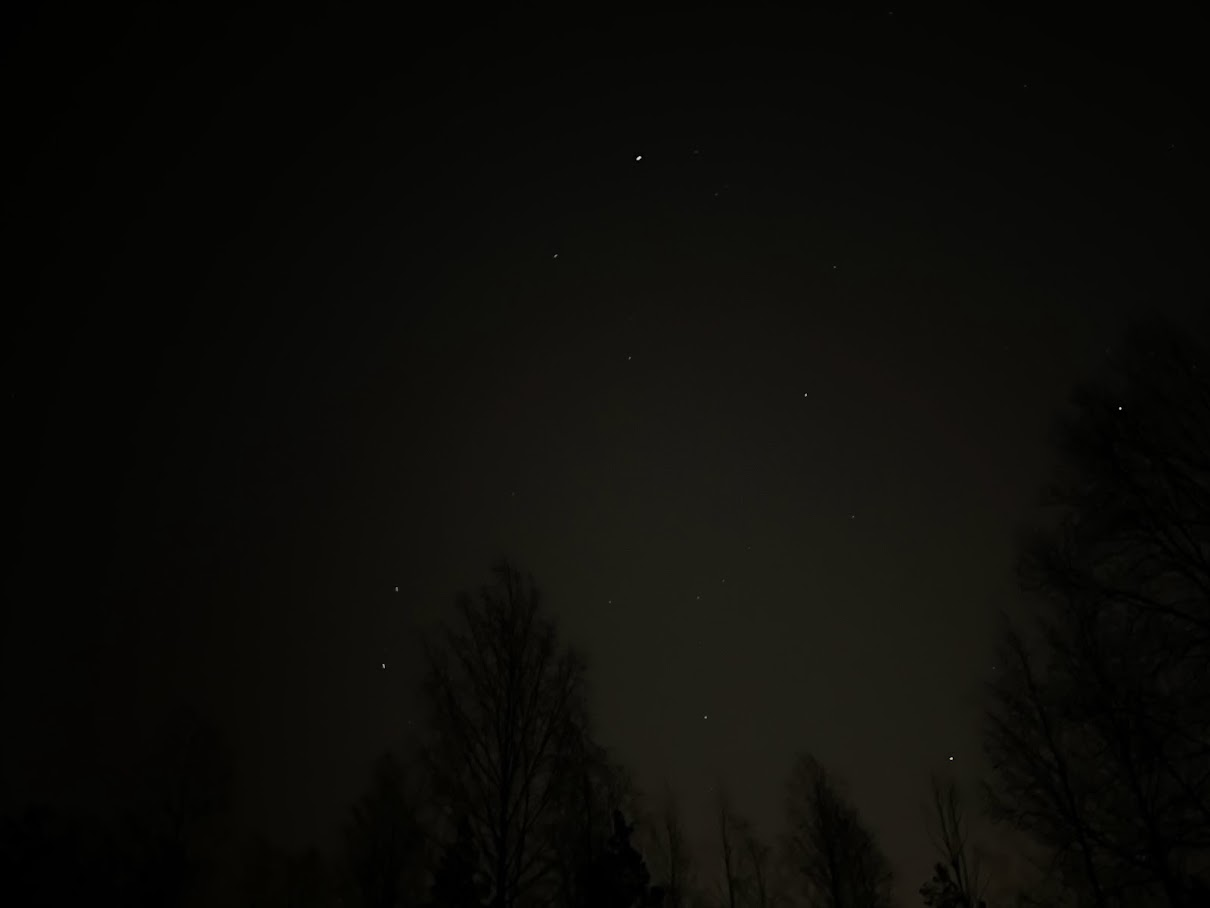 For the grill, we get Muu sausages. When heated they get great texture and become delicious, but I would not recommend having them raw. We also got ourselves beer that we'd checked using Barnivore service. And we got the local Turku mustard! It is called Aura just like the river. There was also another mustard at the store, but we decided not to take risks as it contained some questionable color agents.
The funny thing is that we were at the barbecue site quite late in the evening and it was very dark around but we still met some people – the Finns love nature, even at night. This time we met a group of runners with headlamps.
Secondhand store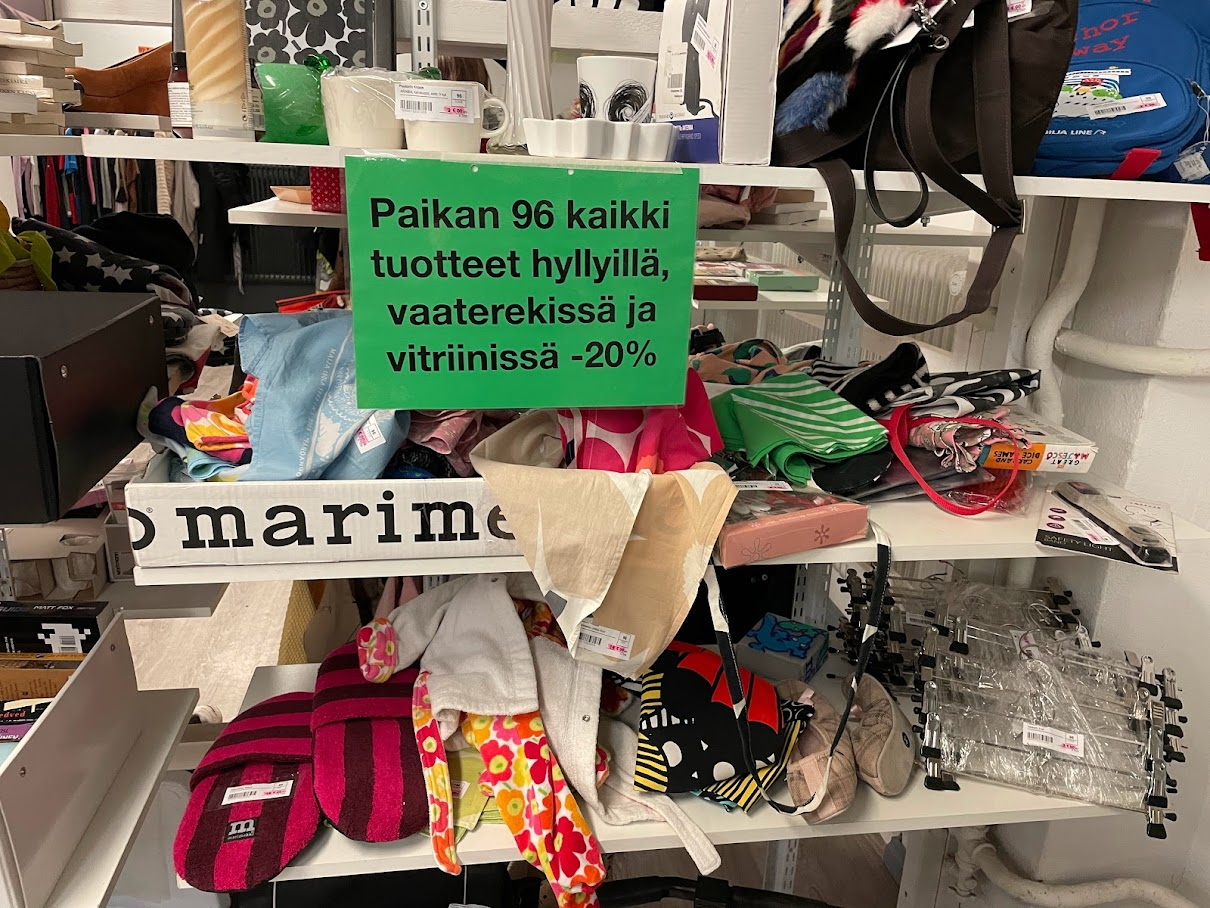 Secondhand stores in Finland are not like the ones we are used to in Russia. Besides clothes, you can often shop for homeware, childcare goods, domestic appliances, furniture, accessories, and dishes. Here is what we got at one of the kirpputori in Turku: a windbreaker jacket for €15 (for my husband), a sweater for €1 (for me), jeans and pants for €7 total (for me), a hat (for me) and a taco stand. We often shop for secondhand clothes and dishes and we know people who even managed to buy secondhand chairs!
The promenade
The promenade along the Aura river is a nice place for 30-35-minute walks. There are usually beautiful ships moored along the banks and there you can see sculptures and installations as you go.  
Food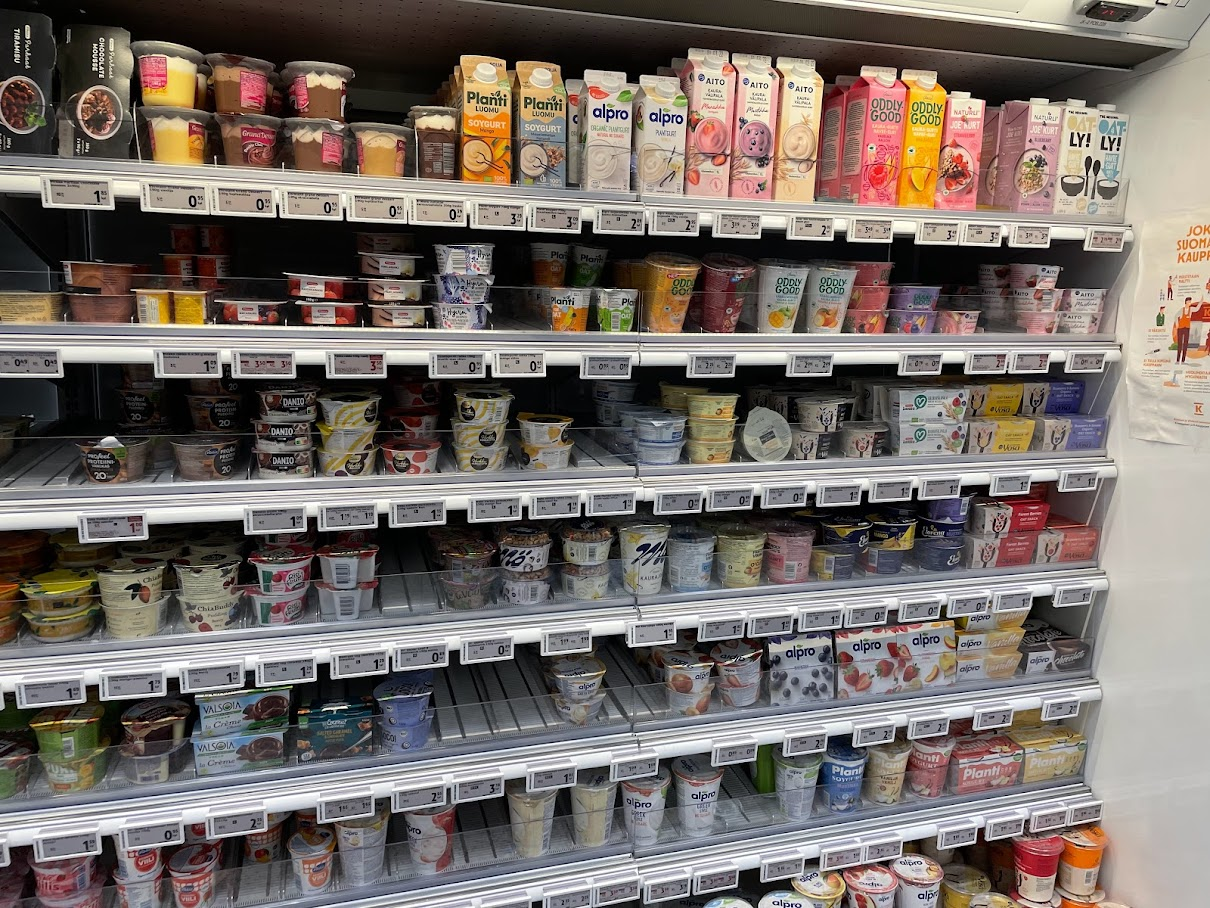 We shopped for food at K stores chain. At the market, we got yogurts for breakfast and we went to the supermarket to get sausages, beer and snacks to watch the series.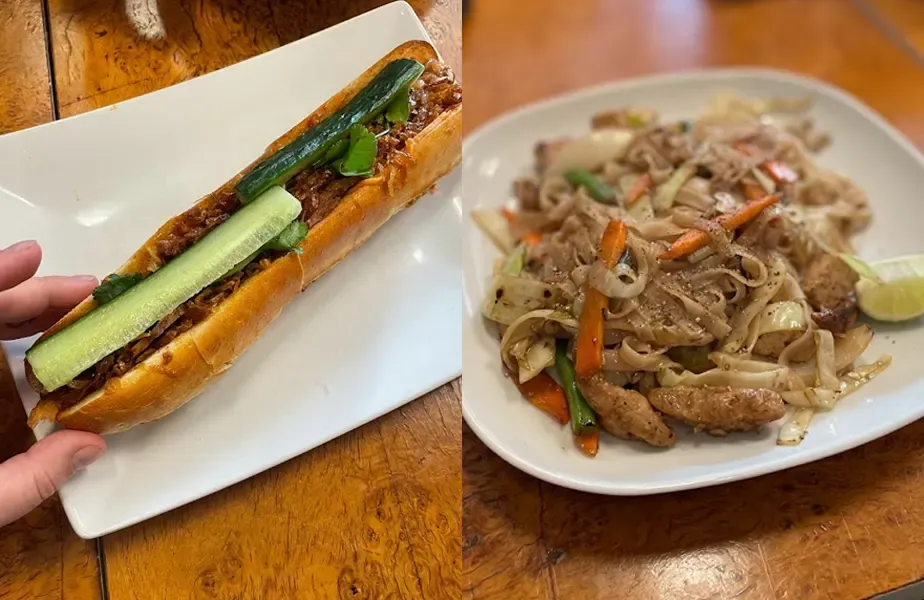 We also went out to eat at VG Wok – a vegetarian Thai-Vietnamese café chain. I got lucky and ordered Ban Mi – a Vietnamese baguette. I learned about this food quite recently when I watched a video about life in Vietnam, so I really wanted to try it. It turned out so delicious that we went to the café again – to order another Ban Mi!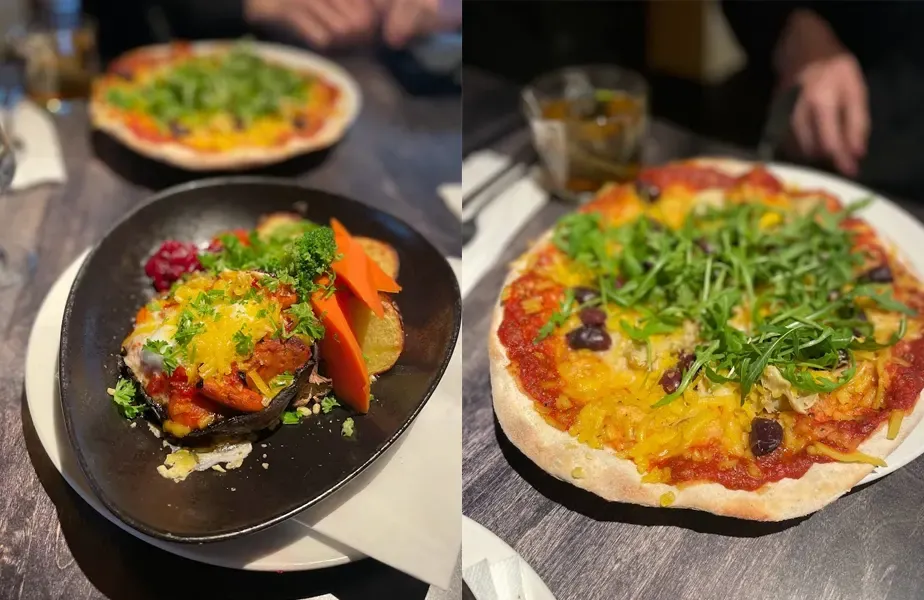 Then as we passed a non-vegan place Puppurimylly (the Finnish for "Pepperbox") I decided to check out if they had any vegan options. And they did! I decided to go for baked portobello mushrooms with vegan cheese. This was a recipe I had recently come across in a video about mushrooms, so I decided to try it. I found it average, but not disappointing, and some day I will definitely try cooking it myself. We also had pizza with artichokes, and sorbet.
Waste sorting
Turku aims for maximum sustainability, and it is something we support. Even on a short trip, we tried to collect all the waste, sort it and take it to recycling bins. We took our bottles to a special machine at the supermarket and got 15 cents for each bottle.
The rules of waste sorting and recycling in Finland can be found on this website which has a user-friendly search by waste type: https://www.hsy.fi/en/
Future plans
No doubt, we would like to come back to Turku at a better time.
Things to do in the summer:
And you can certainly come to Turku for the Christmas mood in winter.
Editor Anastasia Sirotkina.
Translated by Taras Kharchenko.