Finns like to poke fun at themselves for traveling to neighboring countries. They go to Estonia for cheap alcohol, and to Sweden to hang out on the ship all night and not even go out into the city. well, there is a lot of truth in these jokes. When leaving Tallinn, you constantly come across people with carts loaded with boxes of beer. You can even buy a special ticket to go to Stockholm by ship without disembarking. My husband and I once took that cruise just for fun. We didn't party, though, just relaxed on board.
We live in Vantaa, a suburb of Helsinki, Finland. So traveling to Sweden or Estonia is extremely easy since ferries run almost at any time. We got ready and packed our bags in just 3 hours and went to Turku, Finland. Why Turku? More on this later.
I'm not the type who likes to party, so for me, it was more about new gastronomic experiences and a change of scenery than anything else. However, now it seems like I am not being completely honest.
As a matter of fact, it was a last-minute trip. My husband and I argued whether we should go to Milan (well, what do you know! The tickets were on sale) but in the end, we decided on Stockholm! Didn't expect that, did you?
About the destination
Stockholm is the capital of Sweden. The city is located on fourteen islands of the Baltic Sea. In Stockholm, there's an old center of Gamla Stan which is perfectly preserved, where you can take endless walks and admire the sights. The ABBA museum draws the band's fans from all around the world. At this point, you might be wondering what attracted us. And the answer is vegan salmon…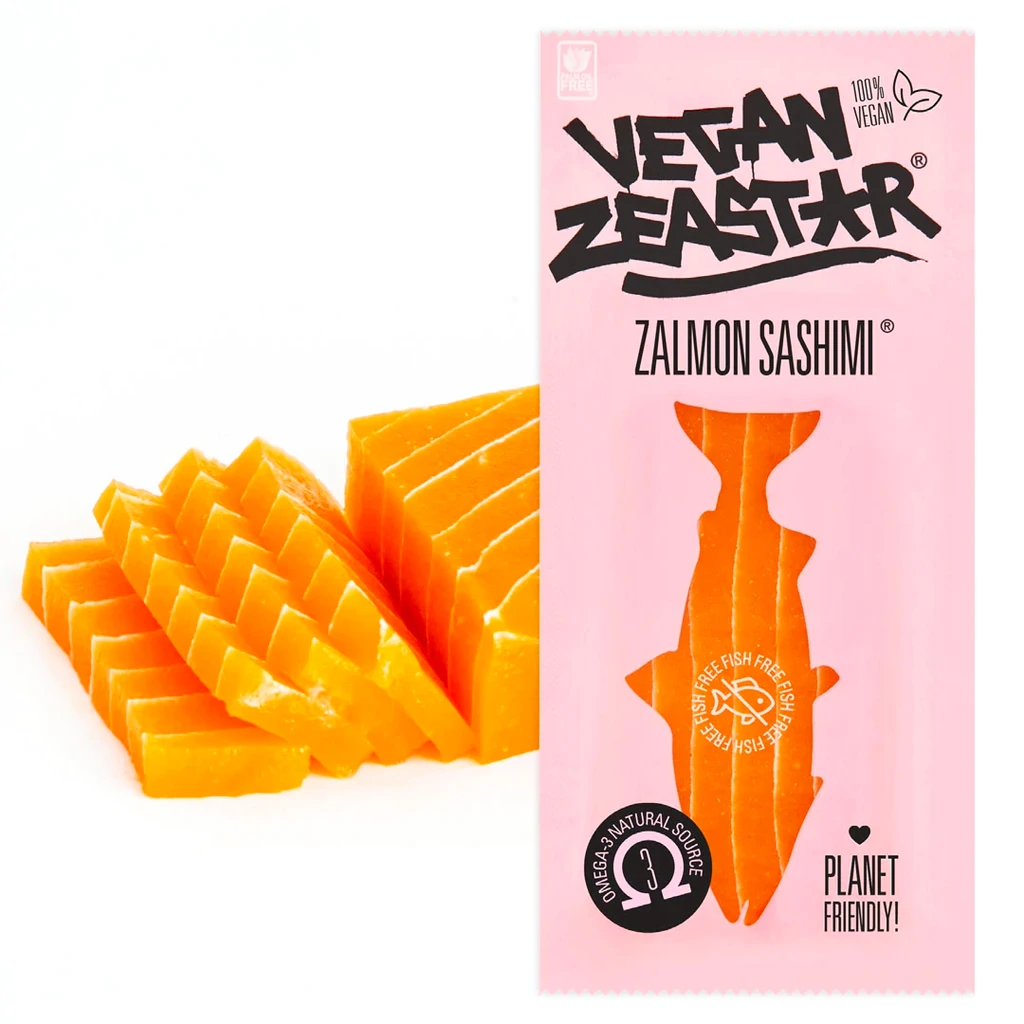 I believe I have wanted to try Zeastar vegan salmon ever since the pandemic started. Unfortunately, it was not imported to Finland, and the nearest country where it is sold is Sweden. So I quite often looked at my husband with puppy eyes and asked him to go there but because of the pandemic, all my attempts were met with a 'no'. However, this time the COVID infection rate in the Nordic countries was low, and we were already fully vaccinated, so we could travel safely.
Expenses for 2 days (2 adults)
Although Sweden has its very own currency, the Swedish krona, we used our euro cards during the trip, hence expenses in euros.
42 € - bus tickets (Helsinki - Turku, and Turku - Helsinki);
263 € - ship to Stockholm and back, the Scandic hotel included (we bought tickets right before the trip, but if you buy them in advance, they will be a little cheaper);
163.7 € - a speaker and a large Mentos roll (bought on the ship);
52.45 € - tickets to ABBA The Museum;
34.29 € - tickets to the Vasa Museum;
217.11 € - eating out;
90 € - food souvenirs to take home (we did not cook in Stockholm);
69.54 € - public transport;
€22.75 – scooter rental;
16.32 € - postcards and stamps;
44.93 € - souvenirs;
2 € - arcade machine on the ship;
3.02 € - public toilet.
Helsinki — Turku
To tell the truth, our journey started in Vantaa, not in Helsinki, but can you blame me for wanting to have a more exciting subtitle? Just a reminder, we live in Vantaa which is not so far from Helsinki, so we took a bus, got off at the Kamppi bus station in Helsinki, and then caught a bus to Turku (this is where the ferries depart to Stockholm). By the way, Turku is the former capital of Finland, but we'll talk about it some other time.
On the bus, we were busy ordering our meals, so time flew by very fast. We used the Wolt app to find a cafe near the bus stop and placed an order for takeout. Danya and I opted for a Chinese restaurant as they often have vegan meals with tofu.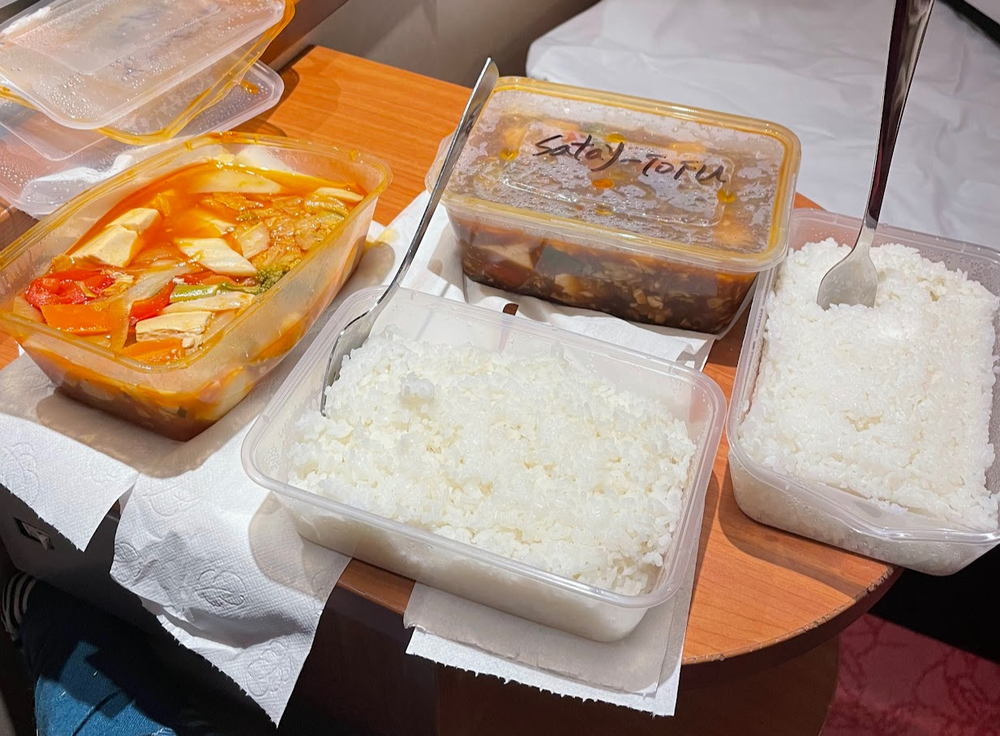 We soon realized we were going to be late for our ship because of this detour, so we decided to rent scooters to get to the port faster. In Finland, there are lots of scooter rental services: Tier, Voi, Lime и many others. We are used to using Tier and never miss a chance to ride their scooters if we see any in the street. Scooters are usually scattered throughout the city and do not have assigned parking spots, so we were lucky to find two scooters just beside the restaurant.
I had already been to Turku once (just passing through), so that was my second time enjoying the view of the embankment, this time, riding a scooter. We spent quite some time riding along the embankment, and it was truly wonderful seeing Turku at night. Docked ships of all sizes, brightly-lit streets, people enjoying their evening walk, music wafting from the restaurants… It was just so beautiful!
Turku — Stockholm (Baltic Princess cruiseliner)
In the terminal, we printed out boarding passes, went through security checks, and ended up in the waiting room. From there, it is pretty simple: when boarding is announced, you get to the ship and find your cabin.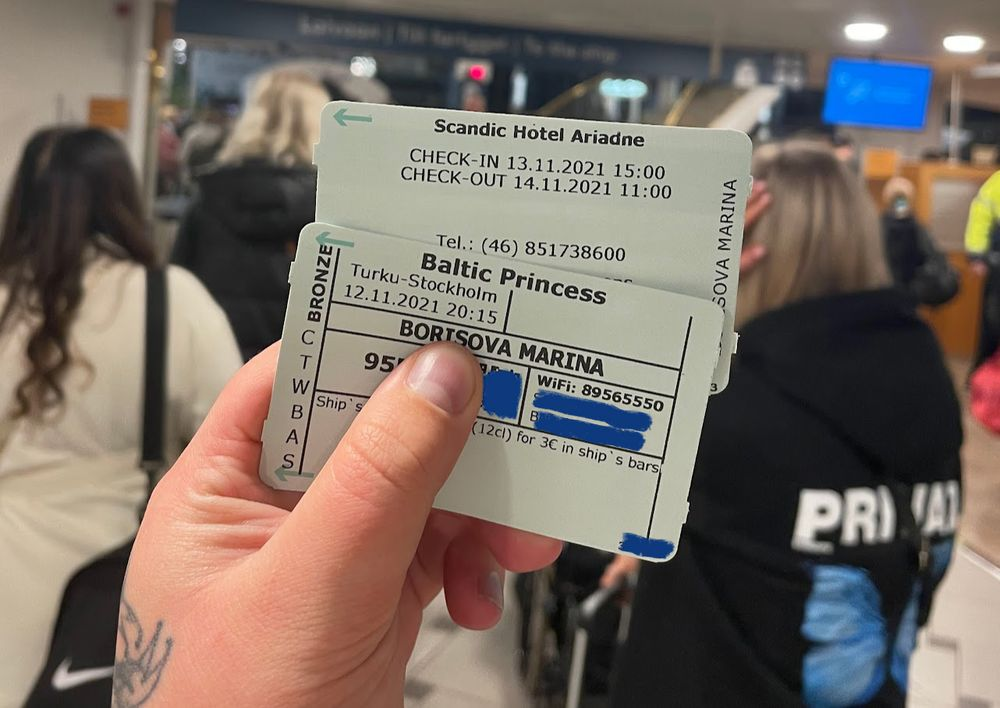 After dinner, we decided to explore the ship a little. At the duty-free shop, we found a giant beeswax-free roll of Mentos! It seemed like a waste of money but I hadn't had Mentos for so long (it used to contain beeswax)! My husband bought himself a JBL speaker as he had planned to buy one for quite some time. It turned out to be a bargain since everything was a little cheaper thanks to tax-free retail on board.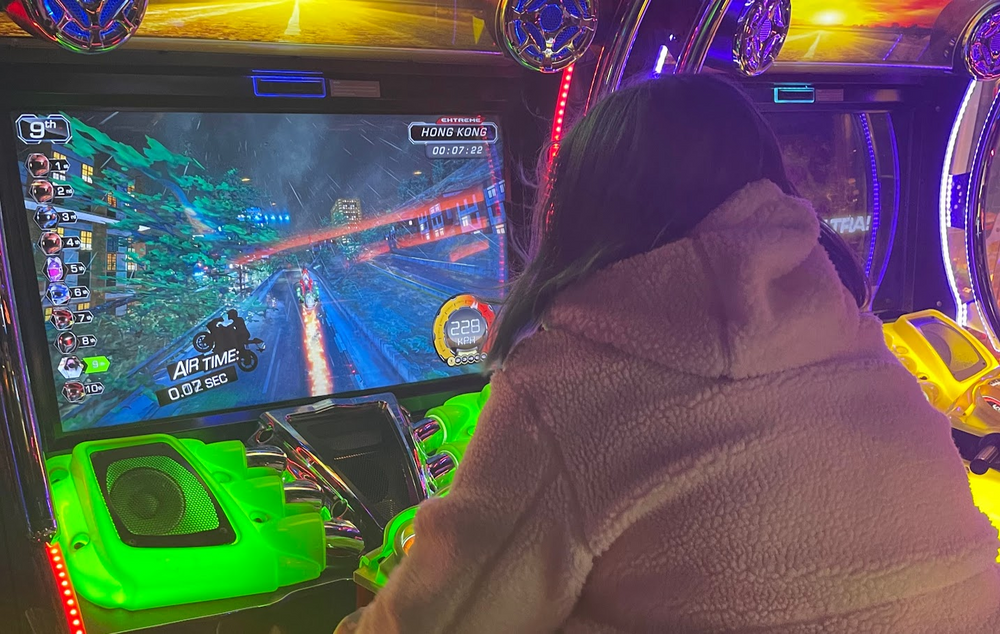 We managed to find an arcade room and I had a ride on a motorcycle in VR. After our adventures, we went straight to the cabin to have some rest and then went to sleep.
By the way, you can pretty much always find something vegan on such ferries. There are some vegan meals at the cafe and a decent variety of vegan snacks and candy at the duty-free shop. So basically, you don't have to bring your dinner with you, you can find something to eat on board too. Oh, and I also saw a TV commercial promoting vegan diet but wasn't able to record it.

Here you can take a virtual tour of the ship: https://virtualtour.tallink.com/baltic-princess/tour.html
Arriving in Stockholm
Going to Stockholm by ship is very convenient: in the evening you board, have dinner and go to bed, and in the morning you are already at your destination. We arrived in Stockholm at 6 am.
Public transport
We mostly used public transport in Stockholm. In the SL app, we bought a multi-day pass for 30+ euros. I have to say, it was quite expensive. For example, a monthly pass in the Finnish metropolitan area costs about 60 euros. I'm not even sure I would have bought a Stockholm pass if I could go back in time.
Renting scooters
During our mini-trip, we also actively used electric scooters. The trips were cheaper than usual, due to some kind of climate event taking place at that moment. Cycle lanes in Stockholm are nice, so we had a great time riding bikes.
To use Tier scooter rental, download the app and sign up. Then you'll just have to add a credit card to your account and you are good to go. Not all scooters on your way are going to be charged, so it's better to locate charged ones using the map in the app.
You can "start your ride" in the app, or by scanning a QR code on the scooter. The price for a ride consists of a fixed activation fee and a price per minute.
There is a phone holder on the handlebar that you can use to charge your phone if it has a wireless charger. Also, there is a bell and turn signal buttons on the handles of the scooter. If you have never used them, it may feel a bit strange at first, so in this case, consider signaling with your hands.
Accommodation
This time we didn't really think about where to live, we just joined the promotion from the Tallink carrier: if you buy ferry tickets, accommodation in the Scandic hotel near the port will cost you next to nothing. The hotel was basic, I can not say much about it. Breakfast was included in the stay, so in the morning we came down to check out their vegan options.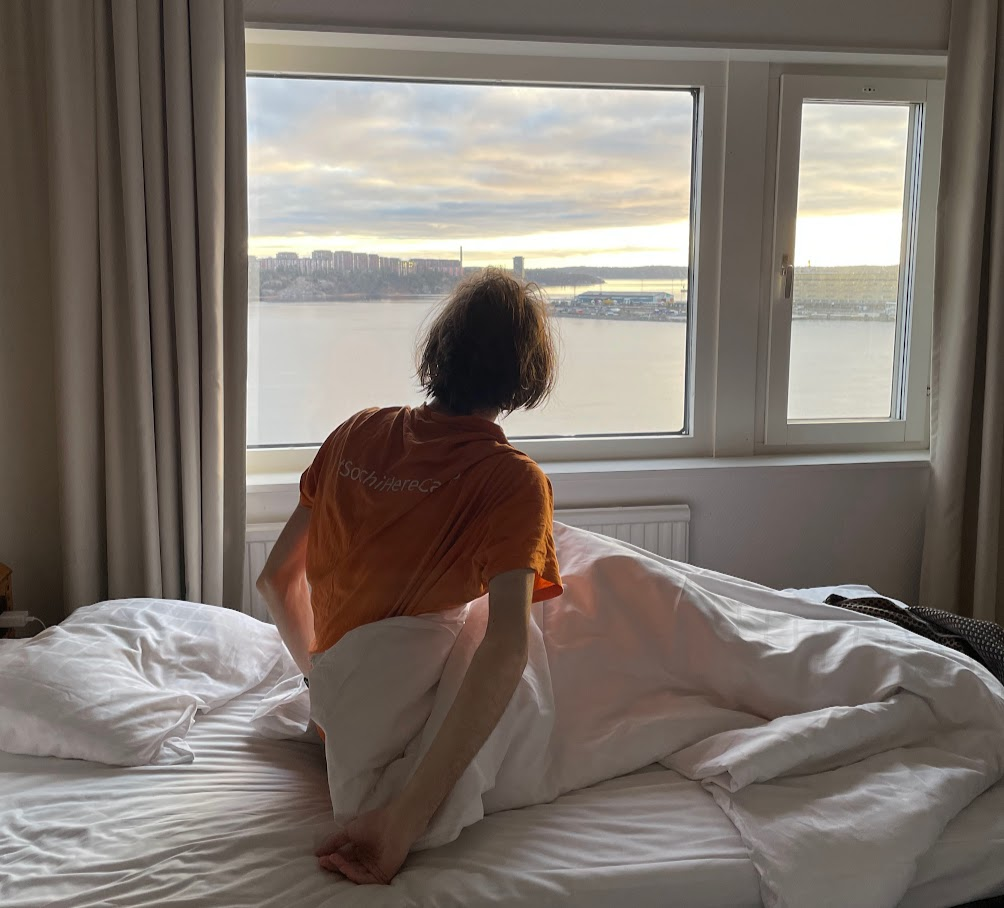 We found a separate table with gluten-free food, and it was the only place where everything was in its original packaging so you could read the ingredients. We didn't risk eating anything without seeing ingredients first, and it was difficult to check with the staff since they were busy serving a lot of customers at once.
Next to that table, we managed to find a refrigerator with lactose-free products. It had only 1 or 2 dairy products, and everything else was vegan dairy alternatives. There were not only all kinds of milk and yogurts but even vegan cheese! So for breakfast, you can have porridge, cereal, yogurt, a sandwich, fruit, and a drink. To be honest, I would like to see a bigger choice... But for now, let's be grateful for what we have!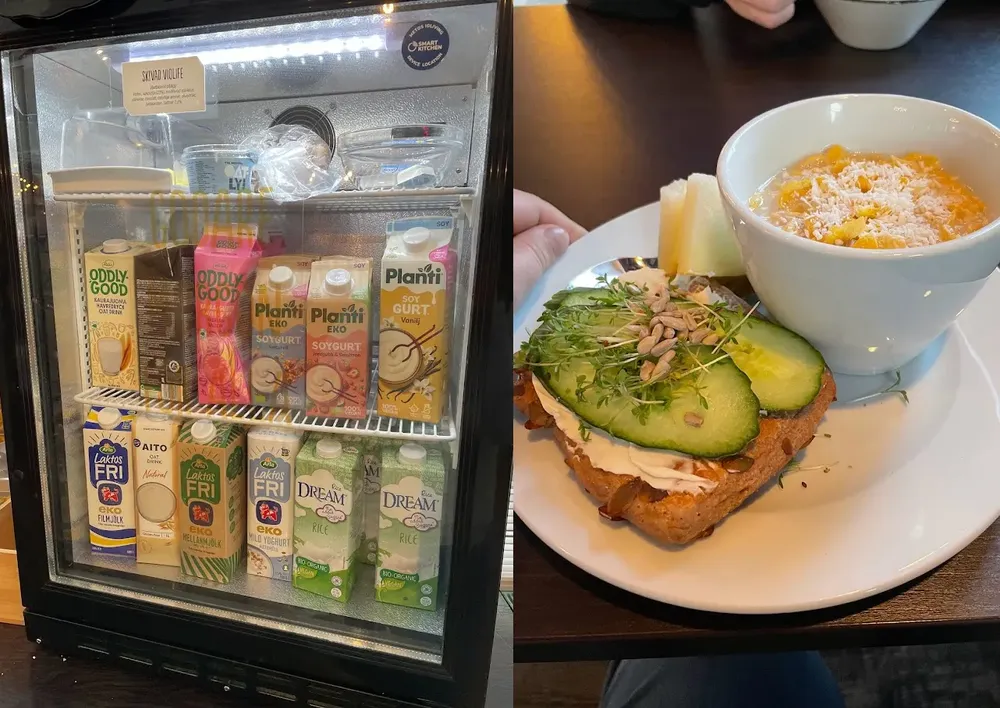 Entertainment
Well, although it's clear at this point, we went to Stockholm without any plan in mind, we managed to quickly think of some things we'd like to do.
ABBA The Museum
It's a funny coincidence, but shortly before the trip, I had been listening to ABBA on repeat for several weeks. You might have heard the news about the ABBA avatar concert. Well, I did and since the news kept coming from all around, I decided to immerse myself in their art again. So visiting the museum was very interesting!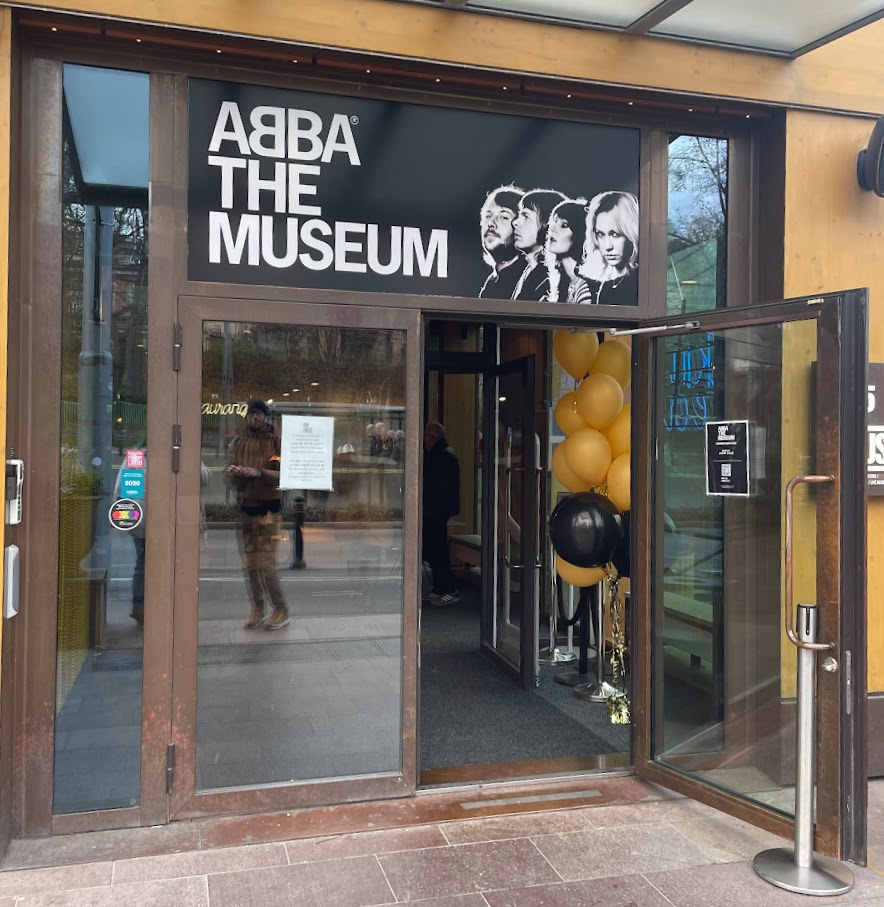 We started our journey to the museum by buying ferry tickets. Ferries in Stockholm are considered public transport so you'll need the same ticket you'd buy to take any other type of public transport.
You can book tickets to the museum online but we didn't know that at the time, so we bought paper ones but online tickets seem to be a more eco-friendly and time-saving option (you don't have to wait in line to buy them).
The exposition begins with props from the set of Mamma Mia!. I watched the movie once when I was little so by that time I did not remember anything and wasn't really invested. It's a good idea to watch the Mamma Mia! movies before your trip to Stockholm to refreshen your memory (or watch them for the first time).
Behind the exposition, there is a bathroom as well as a locker room where you can leave your clothes and other personal belongings. I highly recommend you take a photo of the locker you have occupied and write down the code. I learned it the hard way: I forgot both the code and the locker number. What's funny is that I immediately thought about writing it all down, but when I opened the notes, I just could not remember the numbers. I was very embarrassed to ask employees to help me. And it was even more embarrassing because we had opened two wrong ones before we finally got to mine! When the employee said "Sorry, I can't open all the lockers in a row," I just wanted the ground to open up and swallow me. It's a good thing that the third time was a charm...
The museum itself is made at the highest level, there are a lot of interactive exhibits, music, information about the band, original and restored things (even the ABBA studio!). You can try audio mixing and sing in the booth as if you had an audition. There was also an interesting game resembling Just Dance: the avatars of the group members are projected onto the stage and you stand in the place of the fifth, and then mirror dance moves shown on the screen. Basically, you get a chance to try yourself in the role of the fifth member of the band. You can also see all the band's awards, their vinyl records from different countries, very realistic figures, and even the very same helicopter from the cover of one of the albums!
At the souvenir shop, I bought a music box that plays Dancing Queen, and some postcards to send to my friends and family.
Speaking of postcards
Not a single one of my trips is complete without sending postcards to my loved ones! It was easy to find postcards as they are sold everywhere. However, we were flustered when it came to buying stamps.
We had bought postcards in different shops, and for each postcard, I had asked for a stamp to send it abroad. When we began to sign the postcards, I noticed that stamps had different prices. We started looking for up-to-date prices, and they did not match the prices on some stamps... Our best guess was that even if the price rises, then the price on stamps for international shipments is still valid, even if the initial price is lower than the current one. We couldn't find any information online to back it up, though. So, just in case, we bought extra stamps, so that they were more than 26 crowns. In the end, all the postcards got to their addressees successfully.
My advice would be to make sure you've been sold a 26-crown stamp and put the postcards in yellow (not blue) post boxes.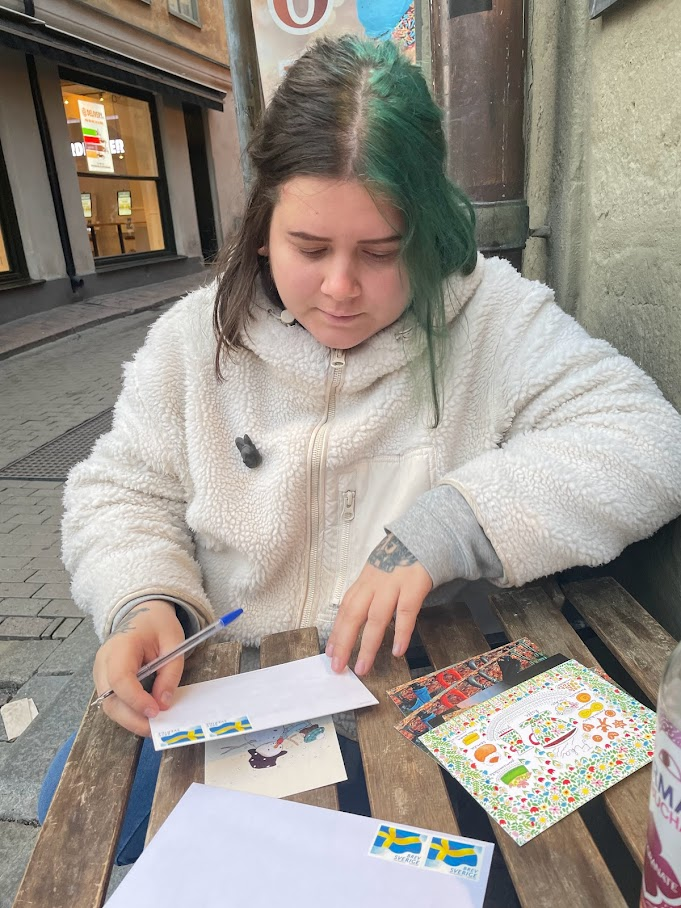 Downtown
After we visited the museum, my husband went to see his friend, and I had a little rest in the room. We decided to meet at the T-Centralen station and look for dinner. From the station, we went east and walked along the street. Actually, the walk was a part of my plan because I wanted something interesting for dinner and was looking for vegan meals that might catch my eye.
Other than that, we didn't explore the downtown area thoroughly, so I can't tell you much about it.
'Nomad'
I'll tell you more about the food in this bar later but I really wanted to include it in the 'entertainment' list since we had such a wonderful time there! This place is very popular with the locals, so we could be seated only outside. At the far wall of the bar, there is a door to the courtyard-well where you can hang out. It was very atmospheric n the evening! The lights were on, the music was playing, and we were surrounded by lots of happy people. There was supposed to be a live performance, but we did not wait for it. So it might be a good idea to check the schedule and come in the evening in time for one.
The Vasa Museum
This is a museum of one ship that sank on its maiden voyage. Because it was the ship's first and only voyage, it has been well preserved and is now a shipbuilding monument. The ship itself is placed in the center of the museum building and you can take a good look at it on several levels, there are about 5 "floors" there.
Everything here is dedicated to this ship. See for yourself. There's the ship itself, restored wooden figures from the ship, a film explaining why it sank and how it was lifted from the bottom of the sea, a small copy of the ship, things from the ship. The exhibits have signs in Russian, but you'd have the advantage if you speak English as they give you the more detailed information. By the way, on the top floor, there are interactive games for children, so they can be entertained if they get bored. My husband and I liked it.
I was also very impressed by the exposition dedicated to women in the history of Sweden. I honestly didn't expect to see something like that and found it educational. No wonder this country is called a feminist's paradise.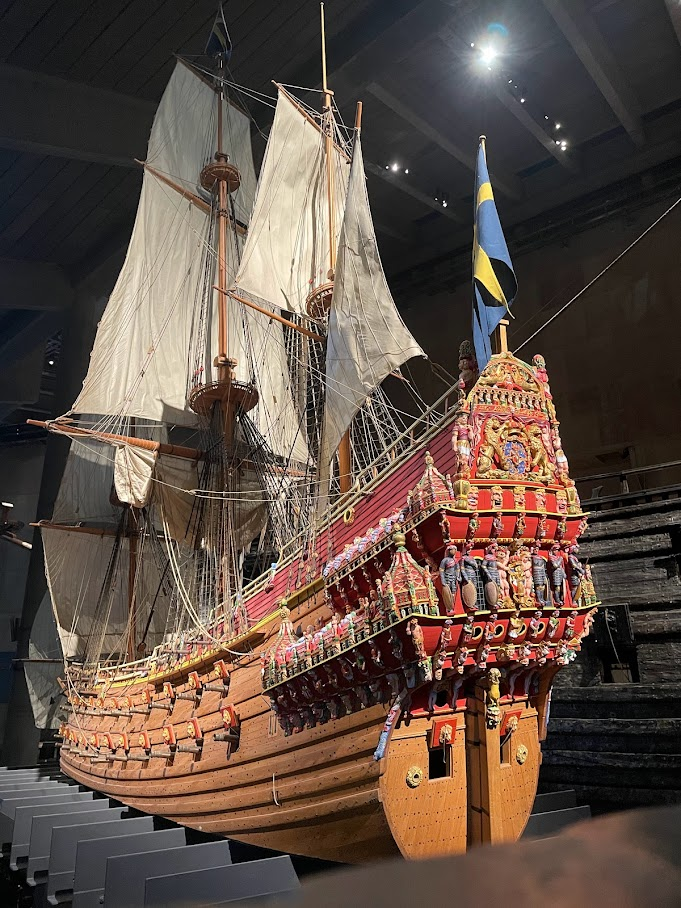 Gamla stan
I just love cities that have an Old City! This is probably my favorite place to study the history of the city.
There are tons of souvenir shops, so you can explore different ones. For example, I wanted to find unusual postcards for my friends I went to several stores before I found the right ones.
By the way, a sad story about souvenirs. I really liked 'Christmas scented' soap in one of the shops, so I took a close look at the ingredients and didn't find any animal-derived ingredients or ones of unknown origin. However, when I got home, I noticed the inscription 'Not vegan' on the packaging and my heart sank... I immediately opened Google and found out that the composition contained a derivative of animal fat... It was some ancient word that is practically not used anymore, so I did not detect it when I was looking at the list of ingredients at the shop. The most annoying thing is that the manufacturer had a vegan line of soap and I could easily avoid this situation.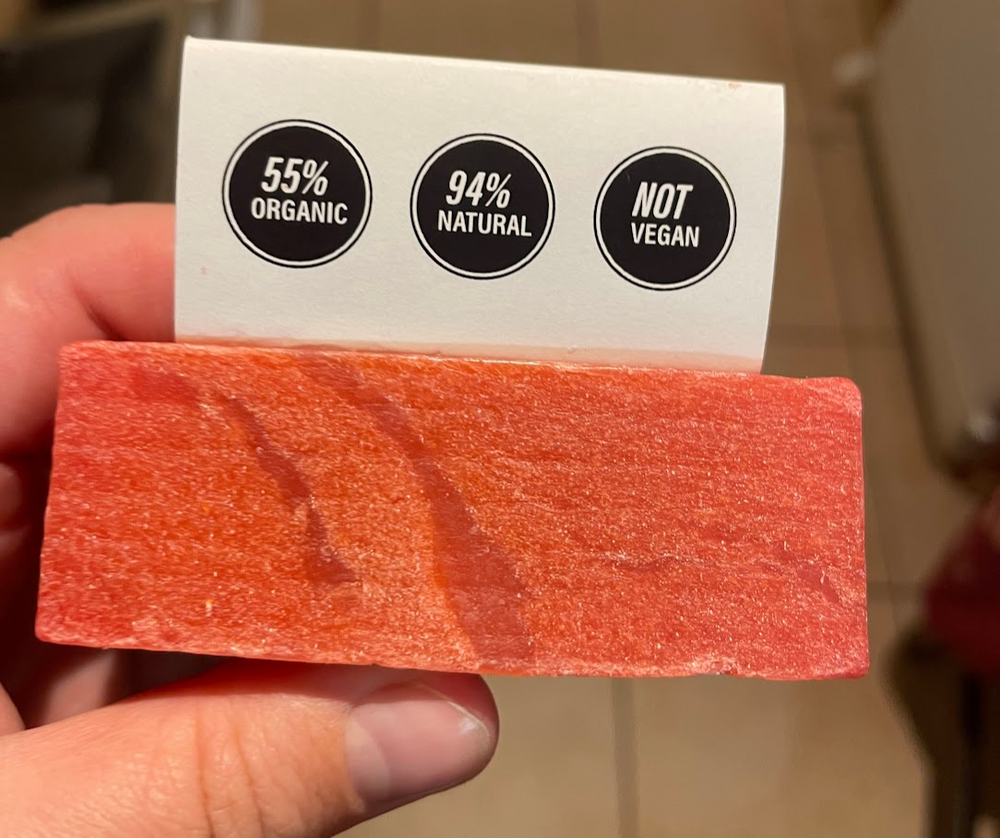 100 Years of Democracy exhibition
This exhibition can be viewed by simply looking at the posters behind the windows of the building at Mynttorget. Even though it is entirely in English, the language is quite simple to understand. You can also learn about the history of women's suffrage. I absolutely loved it!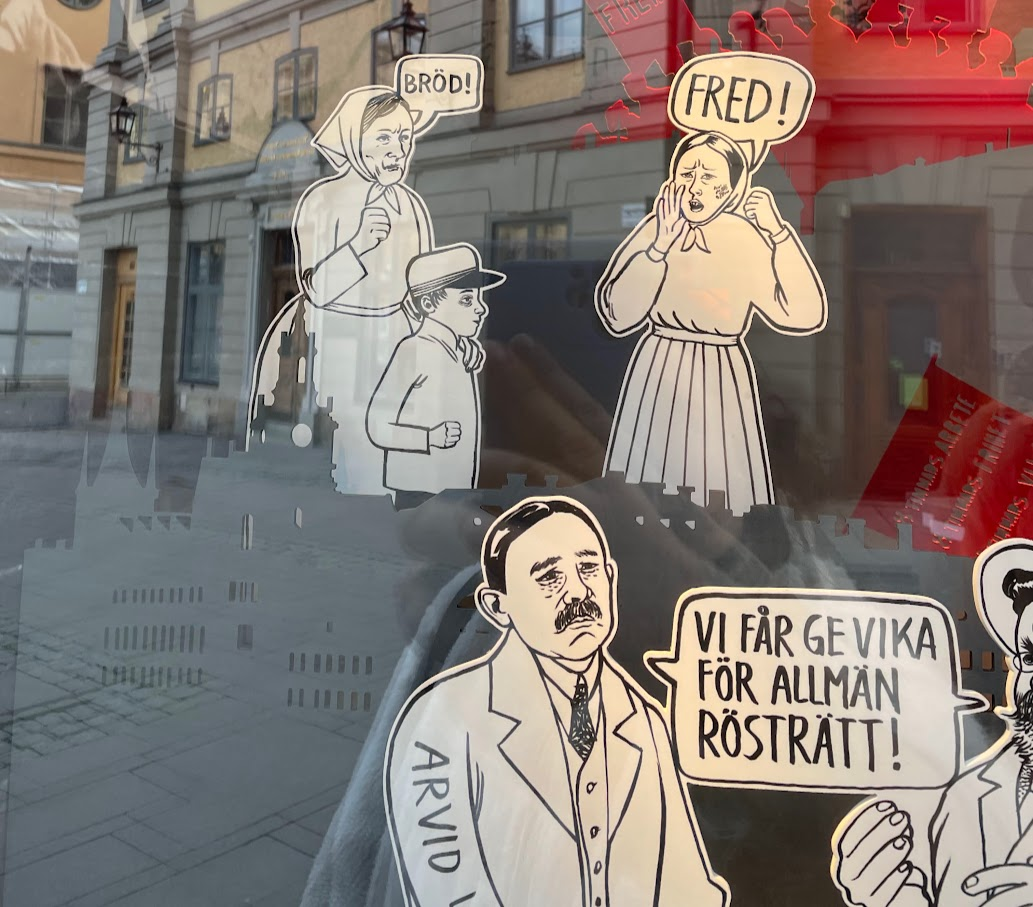 Changing of the guard
At the same building, the guard marching begins. We traveled this path together with them, although there was little point in it. All-knowing people had already gathered at the place where the change was supposed to take place.
There was a possibility that horses would be used at the changing of the guard (I'd seen horses in the pictures), so I was ready to leave at any moment. Those 15 minutes that we were there, there were no horses.
In general, the spectacle is not very interesting, especially considering the crowd, through which you cannot see much. It probably makes more sense to go on weekdays, so there's a chance there are fewer people.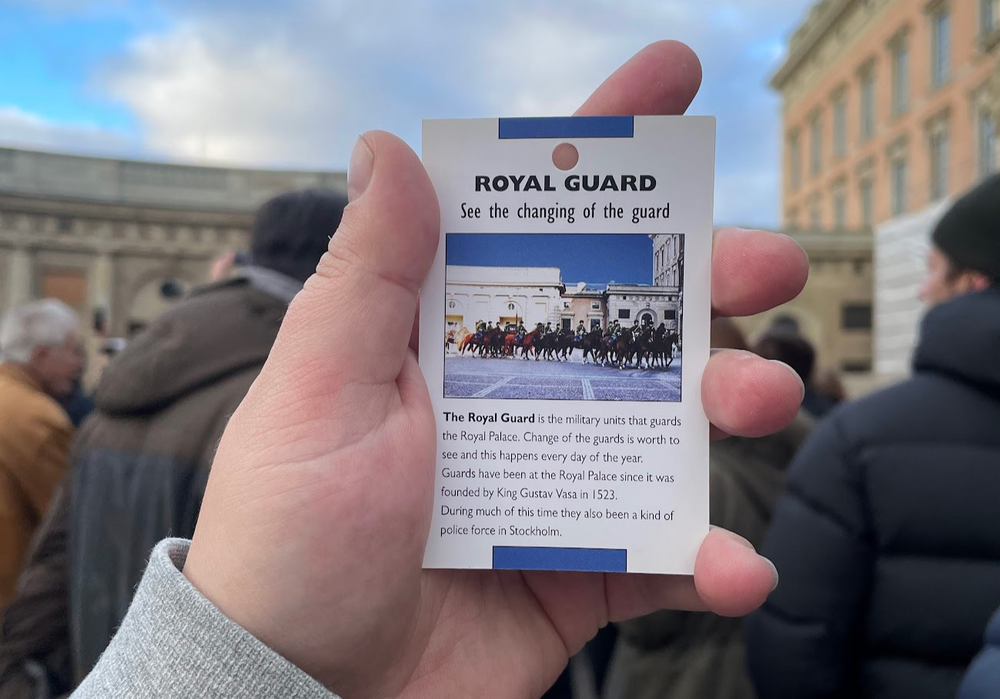 Science Fiction Bokhandeln
In the Old City, I stumbled upon a fantasy store. It's definitely worth a visit - there are a lot of books in Russian. I almost bought How to Vegan, but I decided that I already knew everything.
On the second floor, there is a room dedicated entirely to the Harry Potter series, so Potterheads will be delighted!
This is everything we did in terms of entertainment.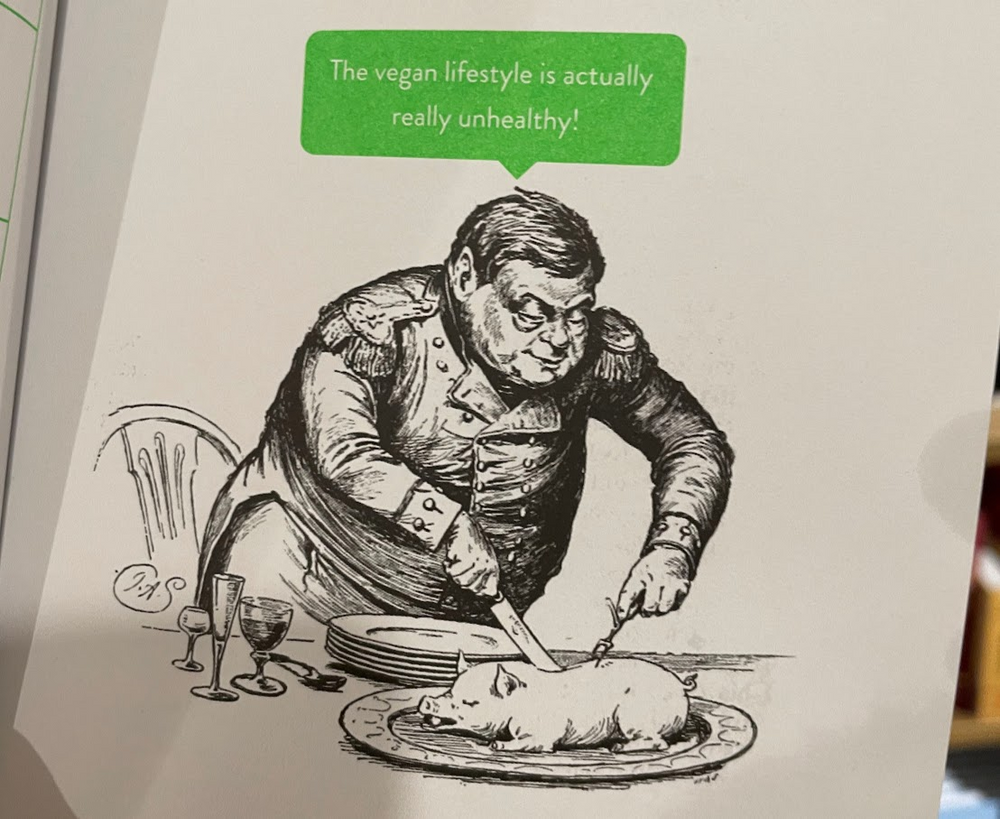 Vegan selection in grocery stores
We spent most of our trip shopping because I really wanted to find that vegan salmon.
Lidl
Lidl in Stockholm surprised me! In Finland, the vegan selection in this store is modest, even though there have been more vegan products lately. Apparently, in Sweden, the selection of plant-based foods has become even bigger.
Lidl sells a lot of products under its own brands. One of their plant-based store brands is Vemondo. Mind you, vegetarian products are also sold under this brand!
Every now and then I look up different countries' stores to see what they have under the Vemondo brand, so I think I had already seen quite a few of their products before our trip. Stockholm had an amazing selection, especially frozen meat alternatives. There were also other plant-based brands. You can find milk, cheese, cold cuts, ready-made meals, chips, sweets. The prices are reasonable.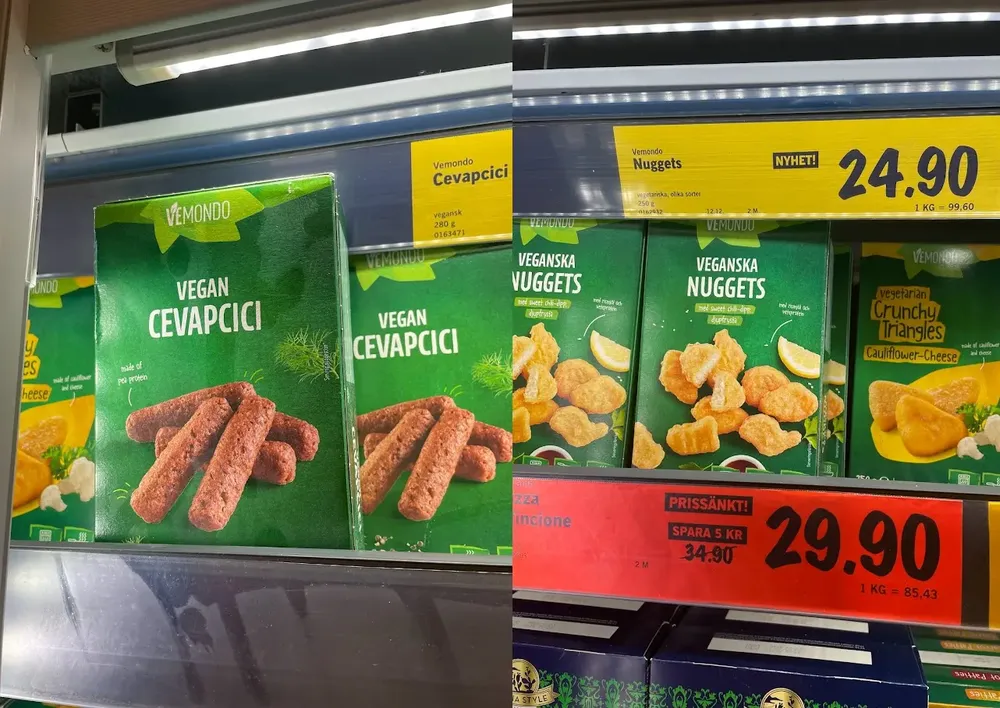 Coop
I did not quite understand this store, it resembled our Finnish grocery chain S. Well, this is not very important. In the store, I found a refrigerator with plant-based foods: cheeses, sausages, spreads, sauces, and whatnot. For some reason, there was also caviar made of fish broth, there was also a lot of vegetarian things, so you need to be on the lookout for them.
There was also vegan milk, frozen foods, sweets - all the basic stuff.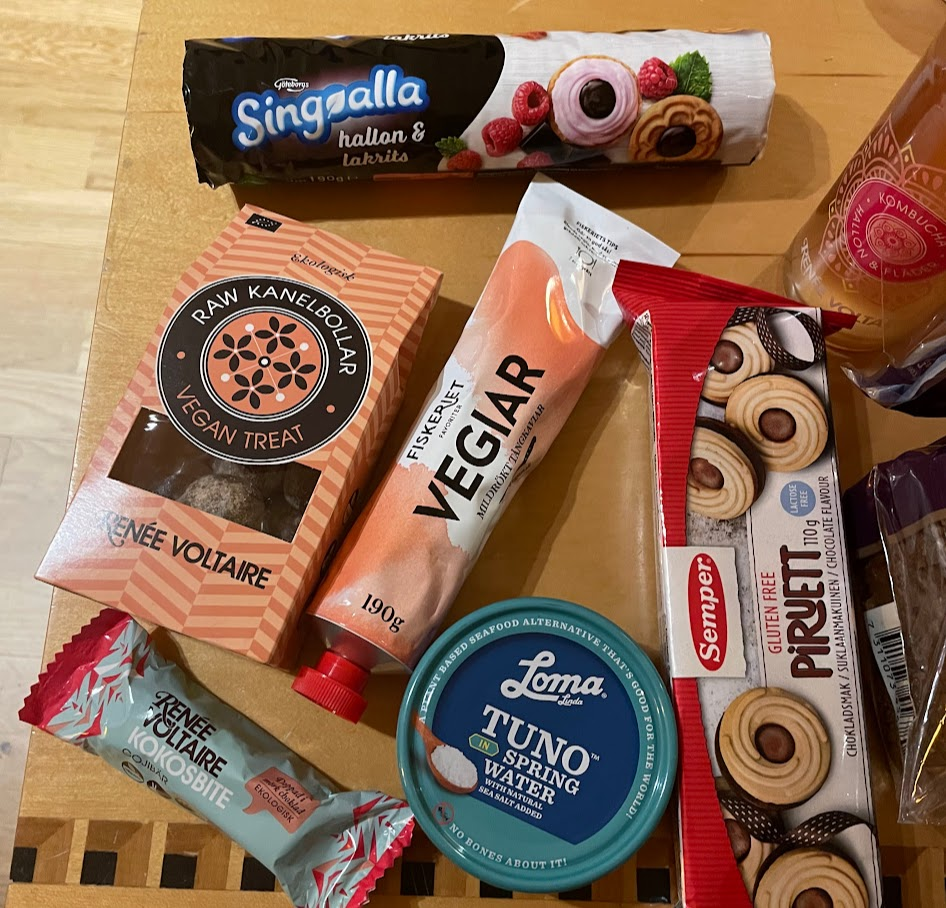 ICA Supermarket
I liked this supermarket chain the most because it had the largest vegan selection. It was where I made a final purchase of interesting vegan products. As it turned out, there was supposed to be vegan salmon, but they had stopped importing it.
In the refrigerators of this store, I found meltable vegan mozzarella cheese, soft truffle cheese, absolutely delicious tuna spread, Swedish fish spread alternatives, stinky Swedish shiitake herring, and pea sausages. Most of all, I was surprised by all sorts of vegan nuggets and schnitzels under the supermarket brand (there were also vegetarian ones). There was a decent choice in the frozen foods section, too, but we didn't buy anything. And perhaps the most unusual purchase… potato milk. Well, it turned out to be some kind of raw potato juice, I do not recommend it.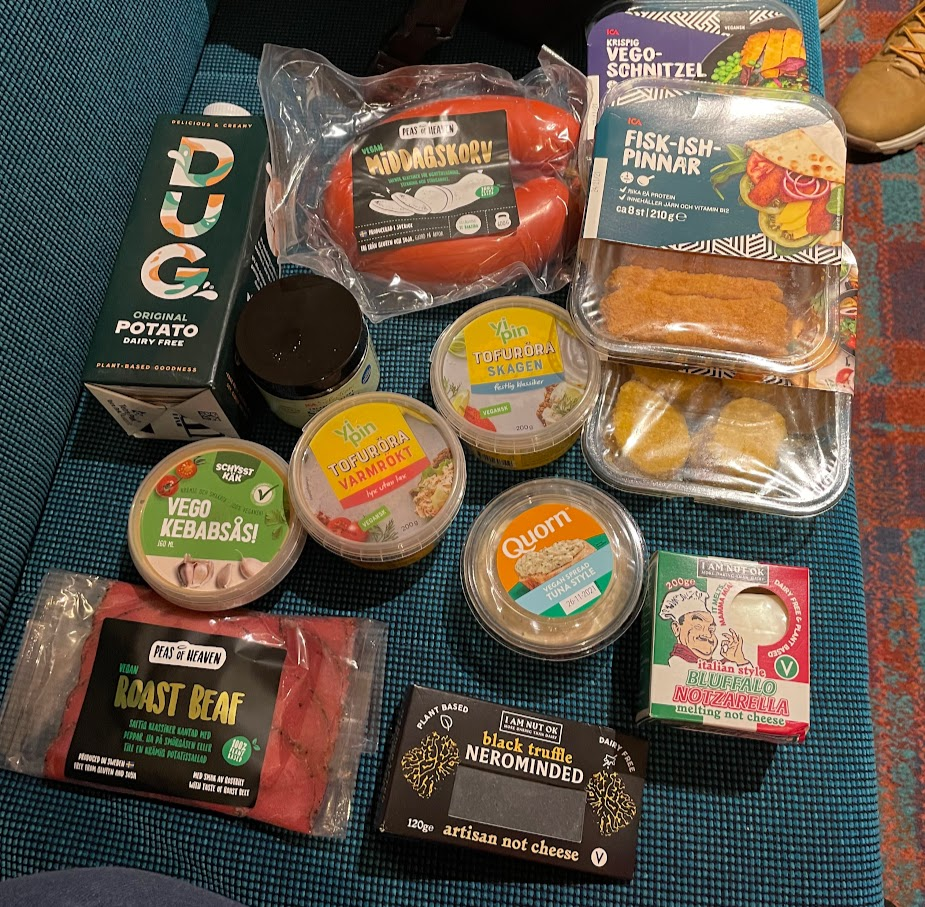 Food
This time we exclusively ate out because we weren't able to cook anything at the hotel.
Johan & Nyström
The coffee shop where we had breakfast upon arrival in the city. Vegan options included overnight oats and a sandwich on a piece of seed cracker with seeds and berries.
Hermans
Vegan buffet cafe. The place is wildly popular, almost all the tables inside and outside were occupied, we had to make our way into the garden and take a seat overlooking the water. People were also sitting in the buffet room, so it was very inconvenient to get to the food - there was simply no room. The food itself was pretty bland and overall mediocre, so I was fairly disappointed. The only decent dish was wok.
Nomad
I've already told you about the bar but now I'd like to add that it's the place where you can have fun but not a nice vegan meal. There was only one vegan option on the menu, cauliflower. I had anticipated that moment for a while but it was time to finally try it. Of course, I did not like it.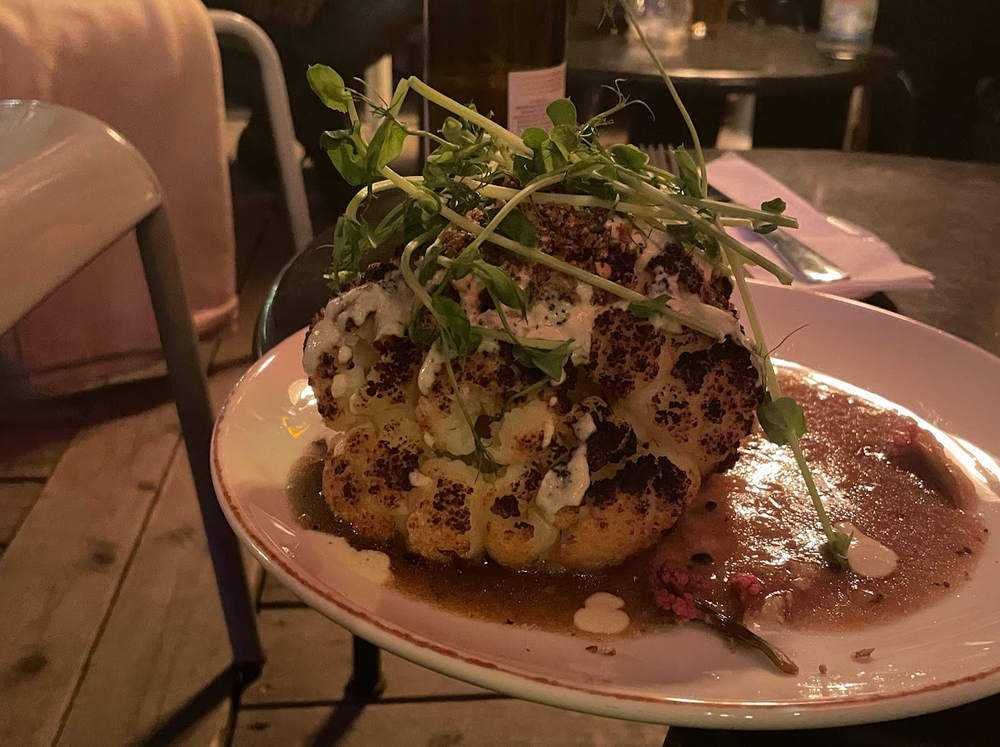 Hermitage
It's a vegetarian cafe in Gamla Stan. It was very sad that they could not replace dairy products with vegan ones. It just doesn't make any sense, because vegan alternatives are very accessible in Sweden. So you might want to check for vegan options ahead of time, for example, that day their sauce and desserts were not vegan.
You can get a meal at an open buffet but the food is very simple.
Bröd & Salt
In this small cafe, my dream finally came true. I tried cardamom buns. In the Nordic countries, they are baked in the fall, but I had not seen vegan ones up until that day. By the way, the list of ingredients was conveniently put on the price tags, so we didn't even need to check with anyone.
To accompany the buns, we had oat milk coffee in our Stojo cups.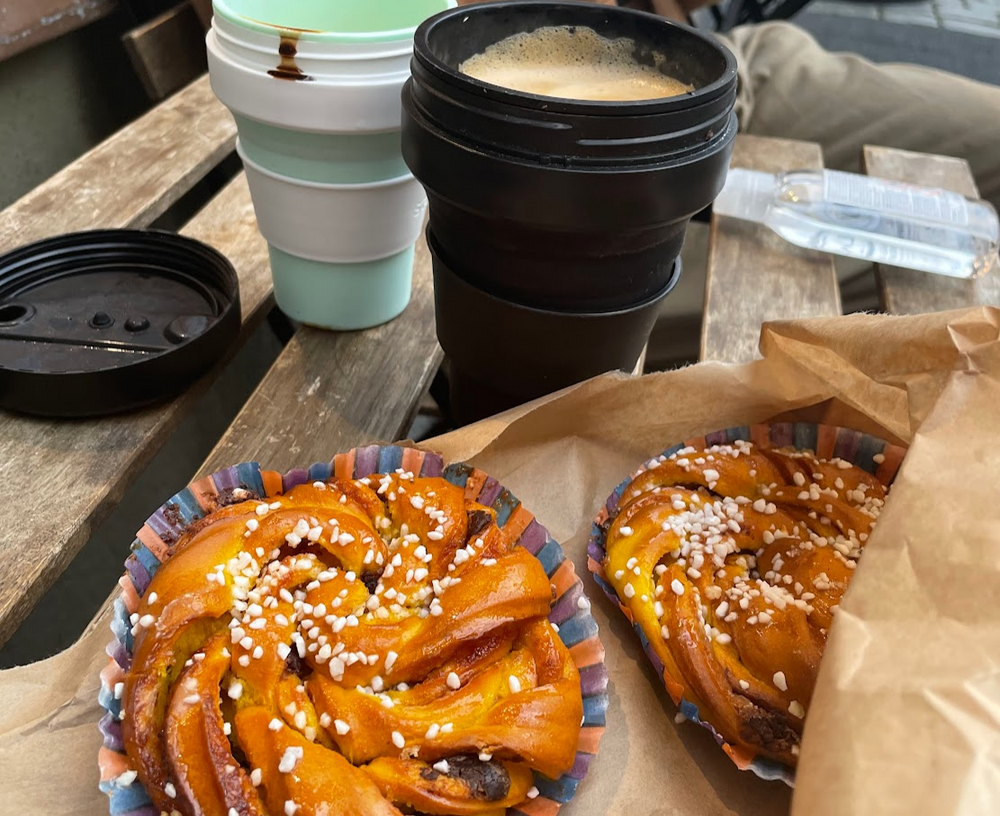 What we realized during our trip to Stockholm is that it is incredibly interesting here and I would love to visit a bunch of other places. They say if upon your return you immediately want to go back, it is a telltale sign that you liked the place. And I think it is true!
Translated by Anastasia Sirotkina.