My friends and I prefer to go hiking on vacation. Later I understood that from a vegan point of view it is relatively budgetary and the most affordable type of vacation for me. I've been hiking all my life and I've never had any nutritional issues. I make up a diet for the group on my own, that is why I know in advance how much it will cost me.
So, in August 2021 my friends and I went hiking in Arkhyz. We wanted the place of our vacation was in Russia, it was easy to get there, it was beautiful and warm, and flight cost adequate money – that is why we chose Arkhyz.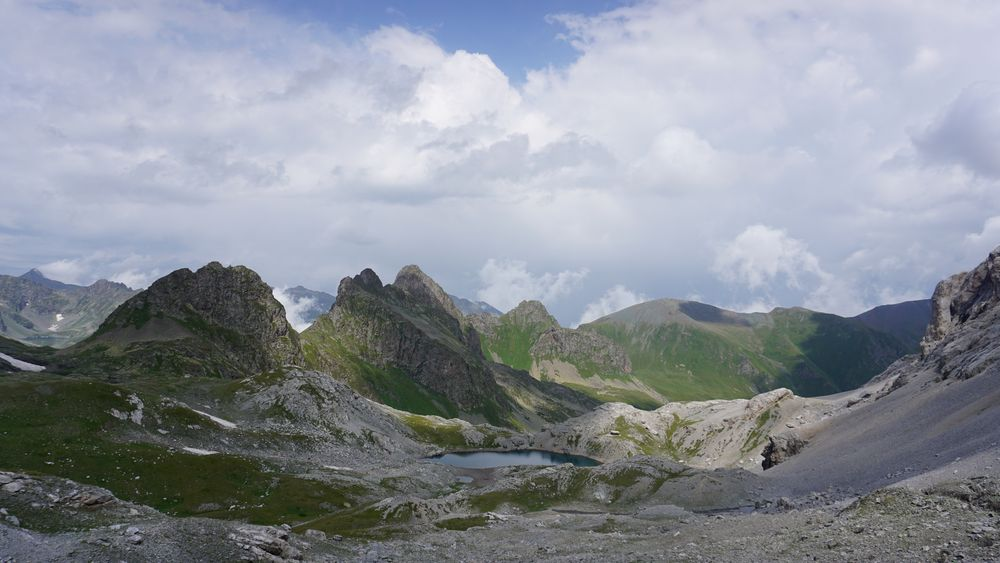 Transport
Arkhyz is a mountainous region in the Caucasus. The easiest way to get there is from Mineralnye Vody by taxi, it was what we did. There were four of us, so the price was very reasonable. From the Mineralnye Vody to Arkhyz the price was 4,000 rubles, i.e., 1,000 rubles each. We found a taxi driver in advance through Avito. You can also get there using the BlaBlaCar service or by bus with a transfer, but these options are less convenient.
We bought tickets for August in July, but it could have been cheaper if we had done it much earlier.
I flew by plane from Moscow, a ticket (with luggage) cost 4,500 rubles. I returned by train in a compartment for 2748 rubles. The total transportation cost amounted to 8248 rubles.
Our route
The route we chose wasn't difficult, but it wasn't easy sometimes. It will be difficult for beginners on some passes, you should understand this and have a spare say of the trip for such a case. You can find the necessary coordinates and tracks for the navigator upon request "route on the lakes of Abishira-Akhuba" on the Internet. This way is quite popular among tourists, walking along the route is good in both directions. We decided to start from the ski lifts near Moonglade.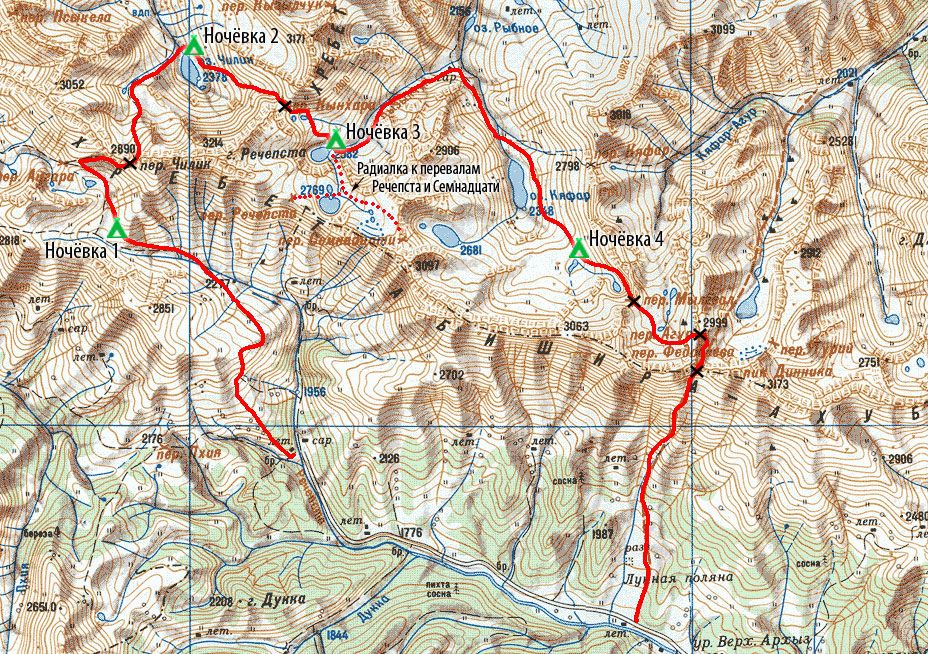 Diet
Let me tell you about the hiking diet. You will need 2500 kilocalories per day for a hike on the plain with one or two overnight stays, but for a mountain hike for 5-8 days on a gentle terrain you will need 3000 kilocalories per day. Of course, few people count to the nearest calorie (including me), but it is not difficult to estimate the calorie content of the menu if you know the basic calorie content of the foods.
Breakfast and dinner or any hike are usually cooked on a fire or burner. But there are nuances with lunch. If the hike is easy and you fit into the timing, then you can take an hour and a half lunch break during the day, cook soup and have a rest a bit. There is more walking time in a more difficult hike and spending an hour preparing dinner is an unaffordable luxury. In this case, it is better to boil the water quickly on a burner, make tea and brew instant soup from a bag in a mug – it is not very high in calories, but digested quickly. You can have a snack with a sandwich or croutons, eat gozinak and go.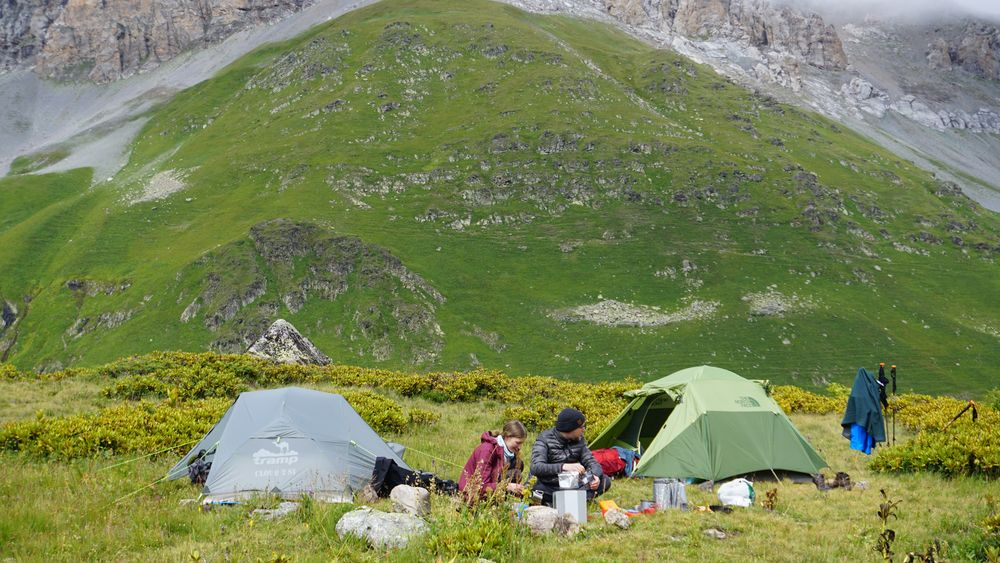 Our diet was a bit like this:
1st day
Breakfast: porridge with dried fruits, coffee, sweets.
Lunch: Moroccan soup (freeze-dried), bars.
Dinner: mashed potatoes (subl), vegan sausage sandwiches.
2nd day
Breakfast: porridge with dried fruits, coffee, sweets.
Lunch: peasant soup (subl.), candy bar.
Dinner: pasta + beans in tomato (subl.), drink, candy bar / gozinaki.
3rd day
Breakfast: porridge, coffee, gozinaki.
Lunch: packaged soup (optional), croutons, a candy bar.
Dinner: rice, soy meat, salad (corn, beans, croutons).
4th day
Breakfast: porridge with dried fruits, coffee, sweets.
Lunch: Moroccan soup (subl.), bread and pate.
Dinner: mashed potatoes (subl.), soy meat, drink, nuts.
5th day
Breakfast: porridge with dried fruits, coffee, gozinaki.
Lunch: peasant soup (subl.).
Dinner: Green bean buckwheat with vegan cheese, drink, nuts.
6th day
Breakfast: porridge, coffee, nuts.
Lunch: packaged soup (optional), croutons, bars.
Dinner: pasta, soy meat, drink, gozinaki.
7th day (spare)
Breakfast: porridge, coffee, nuts.
Lunch: packaged soup (optional), bars.
Dinner: buckwheat, beans in tomato (subl.), drink, nuts.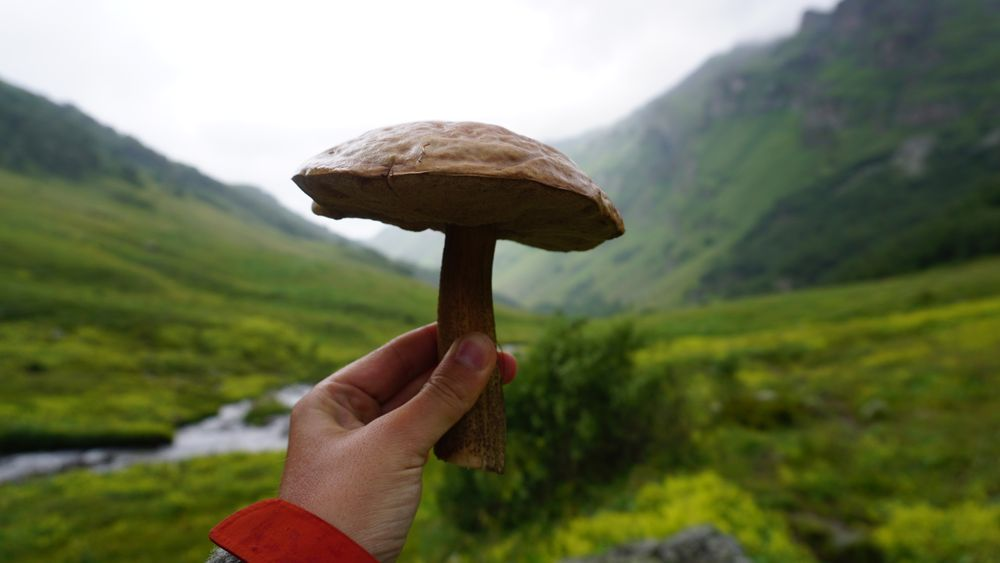 Helpful tips
During long hikes the question of the mass of the backpack is acute and the weight of the products is of great importance. Therefore, I prefer to eat everything heavy in the first days of the trip, but at the same time respecting the calorie content. Sometimes we can afford the luxury of vegan sausage or sujuk. It is better to eat them first so that they do not deteriorate (in cool weather, these products may last longer). It is better to wrap the sausage in foil.
Also, take kissel with you, it is especially good for transitions: the sugar in its composition noticeably adds strength. In the mountains it is always nice to have a warm drink and warm up.
The number of nutrition bars you need to take on a hike varies depending on how much you like to eat. I took myself at the rate of 2 bars a day.
I no longer count the calorie content of products because I know my norm and understand how much I need to saturate. We went on a hike in a group of 4 people, and no one experienced a shortage of food. But the amount of porridge, bars and dried fruits each in our trip calculated for himself individually. For example, someone ate two bags of porridge, I ate one, because I don't like porridge, so I added more nuts and dried fruits.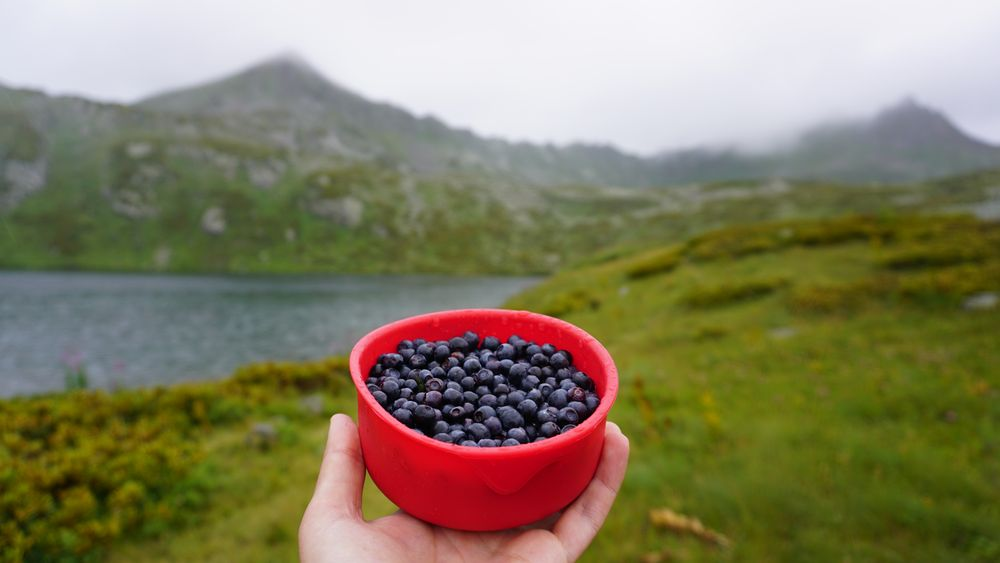 Do not skimp on sugar, salt and water as in a mountain hike with prolonged physical exertion it is extremely important to maintain a water-salt balance. Pure mountain water, especially in high mountain regions, is practically useless for our body. You can drink a lot of it, but it does not contain salt, and, in turn, washes salt out of the body. It is impossible to quench her thirst. It is better to leave mountain water for brewing tea or add isotonics to it.
For transitions it is convenient to take Greenwise jerks with you (about 270 kcal). When there is less strength, jerks can be chewed like chewing gum. This will help you get to the place where you'll stay. It is wise to take dry fruits with you. They are rich in calories, nutritional value is good: there are carbohydrates, and fats, and even a certain percentage of protein. Plus, they're delicious. If you chew them quietly on the go, your mood improves, it's checked!
I strongly recommend you remove the packaging from the products to the maximum at home. In the mountains, there is nowhere to throw garbage, and you will have to carry it with you. It is also very important to measure portions of bulk products in advance, this will help to greatly reduce the weight of the backpack.
Another life hack is solid shampoos. You can take the right amount of shampoo with you, but not a whole piece, because you are unlikely to need so much shampoo. I use a solid shampoo and hair conditioner from the Elska brand (sold at wildberries.ru). There is the same story with tooth powder: easy and convenient.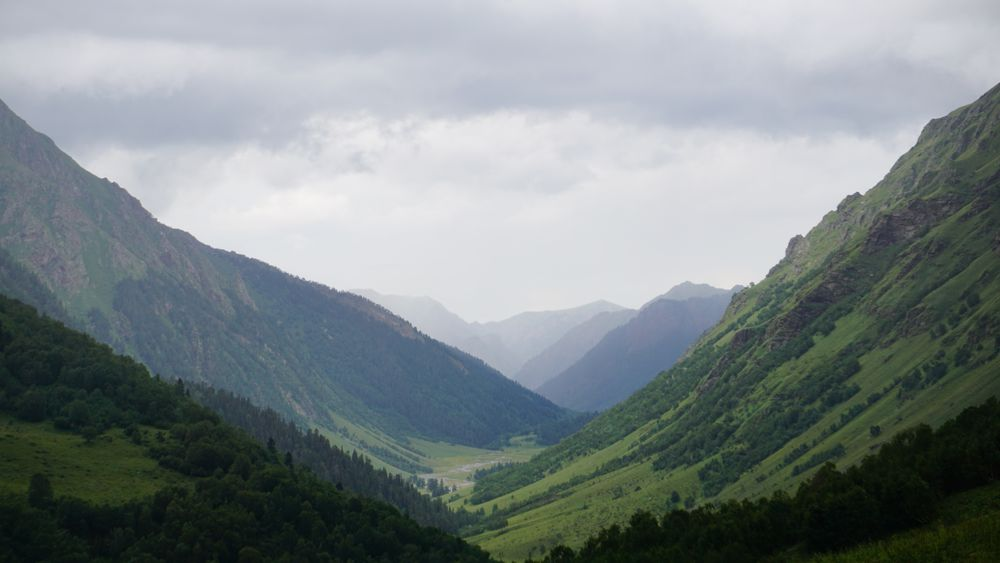 List of products and approximate prices (prices may vary slightly now)
Sublimates (kcal per serving):
Other products (kcal per 100 g):
pasta - 250−350 kcal;
buckwheat - 329 kcal;
rice - 325 kcal;
soy meat (vegetable soy protein from VkusVill) – 318 kcal;
beans - 84 kcal;
corn - 58 kcal;
lenten mayonnaise "Laska" – 340 kcal;
croutons (cooked by us) - 400–451 kcal;
soups packaged Bionova - 275 kcal;
instant porridge "Bystrov" (40 g) - 148 kcal;
pate with white chickpeas Perva - 209.6 kcal;
vegan sausage "Classic" Vegafood - 85.0 kcal;
sujuk Vego – 212 kcal;
buckwheat bread Fitstart - 407 kcal;
kissel ROYAL FOOD - 368.4 kcal;
gozinaki/ nuts/ dried fruits;
tea/coffee;
salt/sugar/spices.
As you can see, the choice is large, but you can also take protein bars on a hike (orient yourself on the website veganrussian.ru).
According to our calculations, 2,250 rubles were spent on food per person.
Results
In cities in the Caucasus the choice of vegan products is not very good, so it's better to look through the menu of local cafes in advance or prepare yourself if after the hike you suddenly want to go down to the city. I usually gorge myself on vegetable salads and fruits because the vegetables here are very tasty, and fruits and berries are inexpensive.
Our group's impressions of the hike were excellent. The Arkhyz valley is incredibly beautiful, I have never seen so many lakes in the Caucasus. Horses grazed everywhere! We also managed to see a group of chamois (mountain goats), which jumped very briskly over the rocks and watched us from a height. They say that in some areas of Arkhyz you can meet bears, but we did not come across them.
All good travels and great experiences!
Translated by Jana Beresneva.